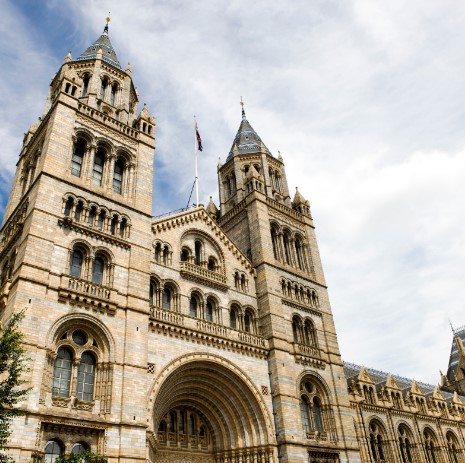 The Natural History Museum in London is one of the most important museums in the world. It immerses the visitor in the depths of nature and human and animal evolution from prehistoric times to the present day.
Originally this museum was part of the British Museum, but the constant arrival of fossils, minerals, skeletons and other objects made it necessary to construct a new building to house all these collections. Although all the objects relating to nature were already housed in this new building constructed in 1873, it was not until 1963 that the Natural History Museum officially became independent of the British Museum.
The museum consists of a large central hall where the skeleton of a diplodocus is majestically displayed, which contrasts perfectly with the classical interior decoration. Around this large hall the museum is divided into five sections: palaeontology, entomology, botany, mineralogy and zoology.
The department that most appeals to visitors, especially the younger ones, is the palaeontology department, with several rooms filled with fossils, dinosaur bones and life-size replicas of these prehistoric reptiles. Visitors are also amazed by the large mammal exhibit with stuffed animals such as elephants and giraffes, and a magnificent replica of the skeleton of a blue whale.
Like the British Museum, admission is free. If you are travelling with children, it is a great opportunity for them to have fun in a very educational way.
Location: Cromwell Road, London SW7 5BD.
Underground: Stops at South Kensington station.
También te puede interesar leer: