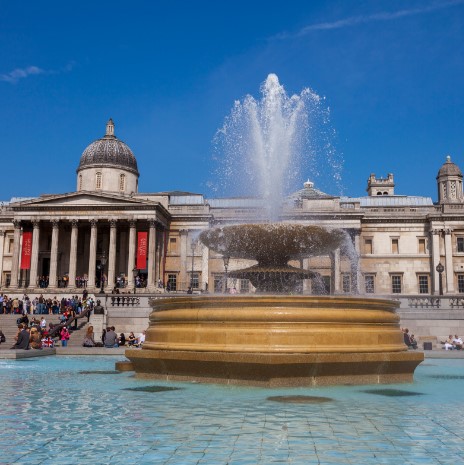 Trafalgar Square is undoubtedly the most representative and famous square in London, the undisputed meeting point for Londoners, with a constant influx of tourists who consider this square an essential visit on their trip to the English capital.
The most characteristic feature of this square built in 1845 is its great column, which pays homage to Vice Admiral Horatio Nelson, who won the victory at the Battle of Trafalgar, which gives its name to the busy square. This column reaches a height of over 50 metres, topped by a sculpture of the Vice Admiral. Surrounding the obelisk is a bronze sculpture of giant lions cast by the architect Sir Edwin Lutyens. Flanking the column are harmonious fountains of crystal clear water that provide a breath of fresh air, especially on hot days.
To the north of the square stands the building that gives Trafalgar Square its majestic appearance. This is the National Gallery, which has the most important collection of paintings in England, with works dating from 1250 to 1900. Another building worth admiring is the church of St Martin in the Fields in the north-west corner.
Charing Cross is the name of a street leading off the square. This point corresponds to London's kilometre zero, just like Puerta del Sol in Madrid.
Around Trafalgar Square are London's busiest areas with numerous restaurants, cinemas, cafes and shops. These areas are Chinatown and Soho.
Location: Trafalgar Square, London WC2N 5DN, Reino Unido +44 20 7983 4750
Underground with stop at Charing Cross station.
También te puede interesar leer: