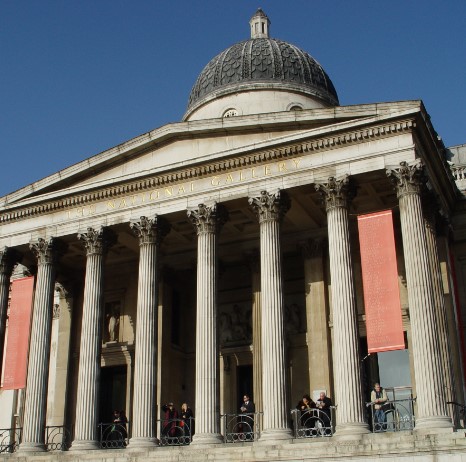 London's prestigious National Gallery is located north of the central Trafalgar Square in a huge 1838 neoclassical building designed by William Wilkins. The building has been renovated with several extensions, but the exterior facade retains its original appearance.
History
The museum's history dates back to 1834 when King George IV ordered the government to purchase 38 paintings from a wealthy Russian art-loving banker, recently deceased, who owned important works by Rembrandt and Rubens.
Collection of paintings
Over the years the National Gallery's collection has grown considerably and now includes more than 2,300 paintings by some of Europe's most prestigious artists.
The museum includes works from the 12th to the 19th centuries, with important works of art representative of most of the Western artistic movements arranged in chronological order.
The museum does not have a large amount of space or a large number of paintings compared to major museums such as the Prado Museum in Madrid or the Louvre Museum in Paris, but it makes up for this with an excellent collection of great masters of painting. It has a significant and extensive collection of Italian art by such famous artists as Titian, Michelangelo and Carabaggio. It also has paintings by great European painters such as Van Gogh, Velázquez, Zurbarán, Rembrandt, Rubens and Anton van Dyck.
It has an audio guide with commentaries on more than 1,000 works from the collection in eight languages, including Spanish.
Location: Trafalgar Square, London WC2N 5DN, Reino Unido +44 20 7747 2885
Underground with stop at Charing Cross o Piccadilly Circus.
También te puede interesar leer: