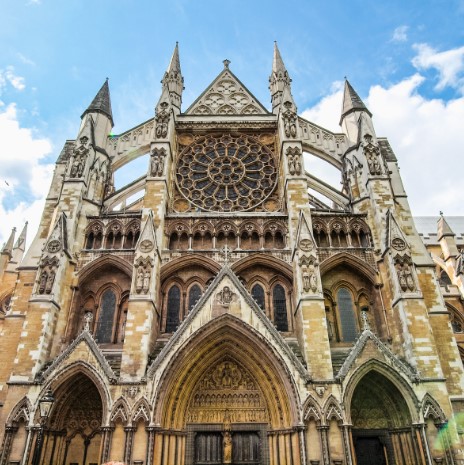 Westminster Abbey is London's oldest and most popular religious building. Its construction dates back to 1045 when the then King Edward the Confessor ordained it on the advice of the Pope.
Most of the church that can be seen today dates from between 1245 and 1517, when the original Romanesque style was replaced by a Gothic style rebuilt by Henry III to honour the memory of King Edward the Confessor. The two towers of the main façade were added to the basilica in 1745.
The basilica is famous not only for its architectural beauty and decoration, but also for the events it has hosted and the personalities buried inside.
Since the coronation of William the Conqueror in 1066, all the coronation ceremonies of the English monarchs have taken place in Westminster Abbey, except those of Jane Grey, Edward V and Edward VIII.
Among the famous people buried here are some of the kings of England and illustrious personalities such as Charles Darwin and Isaac Newton, among many others.
Location: 20 Deans Yd, London SW1P 3PA, Reino Unido. +44 20 7222 5152
Underground Stops at St James' Park, Westminster.
Bus: Lines 3, 11, 12, 24, 29, 53, 70, 77, 77a, 88, 109, 148, 159, 170 y 211.
También te puede interesar leer: