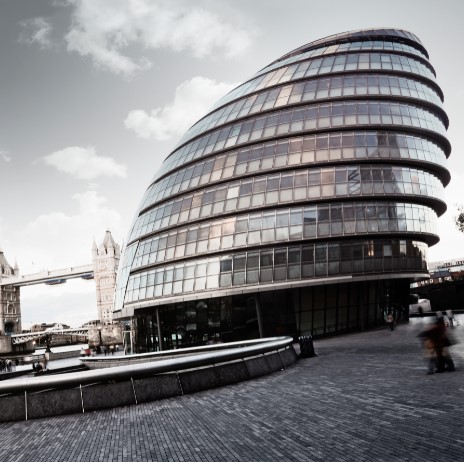 City Hall is one of London's newest and most modern buildings housing the offices of the City Council and the City Assemblies. It is located south of the Thames, very close to the Tower of London Bridge.
It is a modern building designed by the well-known architect Norman Foster, the same architect who designed London's Millennium Bridge and who remodelled the iconic Reichstag (Berlin's German Parliament).
The building was inaugurated in 2002, but not without some controversy among the population due to its curious appearance. Some call it 'the onion', others 'the motorbike helmet' or the 'glass testicle'.
The building is about 45 metres high, with a total of 10 floors and a long spiral staircase 500 metres long. At the top is an exhibition and meeting room called London's Living Room, with an open bay window that is sometimes open to the public.
Its modernity does not only apply to its quirky, futuristic design. This steel and glass building replaces air conditioning with natural ventilation and is precisely angled to avoid direct sunlight during peak hours so that air conditioning is not necessary.
It also has a series of solar panels to supply the electricity consumption of the entire building.
Location: The Queen's Walk, London SE1 2AA, Reino Unido - Telephone: +44 20 7983 4000
Underground: from Tower Bridge station.
Bus: any line that passes through Tower Bridge.
También te puede interesar leer: