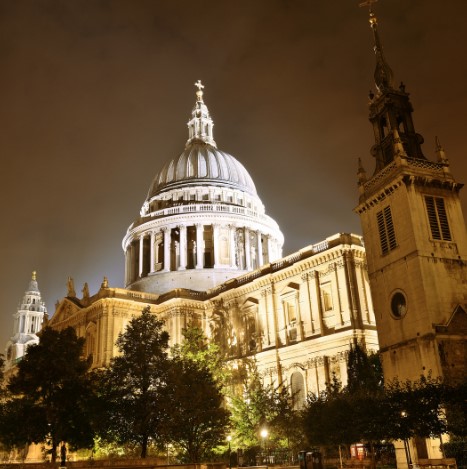 The history of St Paul's Cathedral dates back to 604, when the first church dedicated to St Paul the Apostle was built on one of London's hills. This modest wooden building was replaced by a stone one at the end of the 7th century.
In 962 and 1087 the church was burnt down, but on both occasions it was rebuilt and enlarged, making it one of the largest cathedrals in Europe. In the 13th and 14th centuries the church was further enlarged.
The medieval cathedral was completely destroyed after the fateful fire of 1666, which devastated a large part of London. Once the catastrophe had passed and as part of the plan to rebuild the city, it was decided to rebuild the cathedral to the design of Christopher Wren.
The cathedral was built between 1676 and 1710 and today it retains the same structure and decoration as it did then, without losing any of its baroque design. It was one of the few buildings that withstood the bombings of World War II.
The cathedral was the scene of important historical events such as General Nelson's funeral in 1806, Winston Churchill's funeral and the wedding of Prince Charles and Lady Diana.
The most striking feature of St Paul's Cathedral is its impressive dome, the second largest after St Peter's Basilica in the Vatican. It is not only impressive for its imposing dimensions but also for the magnificent frescoes that can be seen from inside, depicting passages from the life of the apostle after whom the church is named.
The Golden Gallery of the dome, which can be reached by climbing some 530 steps, will provide visitors with unforgettable images of London.
Location: Saint Paul's Church Yard, London EC4M 8AD. Phone: +44 20 7246 8350 - St. Paul's Churchyard, London EC4M 8AD, United Kingdom.
Transport: Underground stopping at Central Line station. Bus numbers 4, 11, 15, 23, 25, 26 and 242.
También te puede interesar leer: