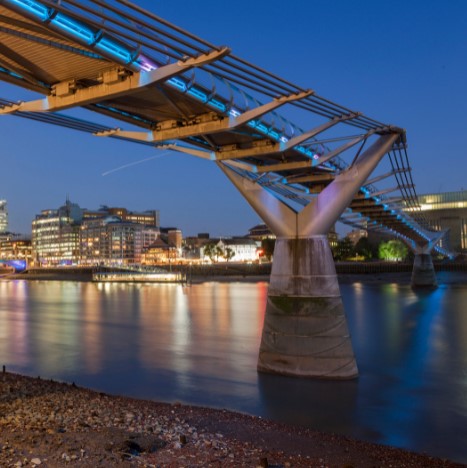 The Millennium Bridge is located next to the London Eye, between Southwark and Blackfriars bridges. This pedestrian footbridge opened in June 2000, after just over a year and a half of work.
A few days after its inauguration it had to be closed for technical reasons and possible faults in the structure. It is the work of the famous British architect Norman Foster in collaboration with the engineers Ove Arup and the British sculptor Anthony Caro.
The materials used in its structure are mainly steel and aluminium.
The particularity of this bridge is that it was the first to be built since the Tower Bridge was built in 1894. It is 325 metres long and has a useful surface area for pedestrians that is 4 metres wide.
The southern end of this suspension bridge is near the new Globe Theatre and directly opposite the Tate Modern Museum. At the northern end is the imposing St Paul's Cathedral with its huge dome which provides a magnificent view, especially at night.
Location: Between Southwark and Blackfriars bridges.
Underground with stops at Mansion House Station.
También te puede interesar leer: