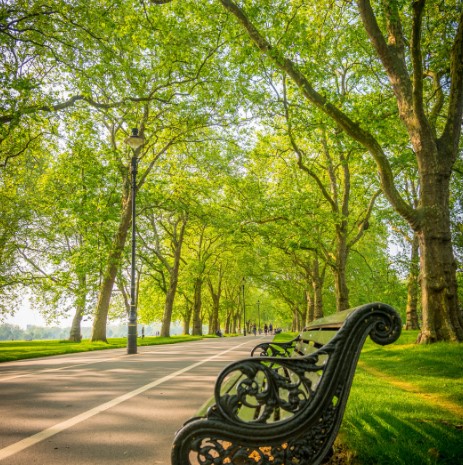 Hyde Park is the most important public park in London with some 140 hectares of green spaces, ideal for the recreation of the London population and tourists who come to enjoy the atmosphere of this oasis in the middle of so much brick, concrete and asphalt of the big city.
Adjacent to Hyde Park are other extensive parks such as St James's Park and Kensington Gardens.
Hyde Park was originally the property of the monks of Westminster Abbey, which was confiscated in 1536 by the then King Henry VIII, who subsequently used it for hunting. It was not until 1637 that Charles I inaugurated it as a public park.
Serpentine Lake
It has an elongated lake called Serpentine, which delimits the park with Kensington Gardens. This lake, created in 1730, can be navigated with rented canoes and you can observe the behaviour of the birds that inhabit it.
To the south of the lake is the Diana Princess of Wales Memorial Fountain, a large oval stone ring-shaped fountain dedicated to the princess.
Speakers' Corner
A very curious event that takes place in this park is the well-known Speakers' Corner in the north-west of the park. Here people gather freely every Sunday to discuss and debate their ideas on politics, religion and other issues.
Don't hesitate to stop by this park to lie on the grass or, if you're lucky, to enjoy one of the many open-air concerts that are often held here.
Location: In the city centre.
Underground stops at Hyde Park Corner, Marble Arch, Knightsbridge or Lancaster Gate stations.
También te puede interesar leer: