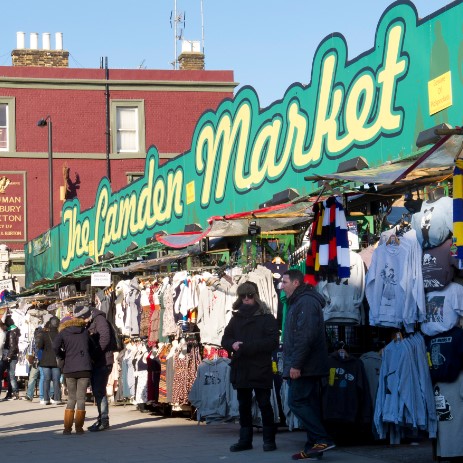 London markets
The culture of street markets is deeply rooted in London's population, so it's not surprising that London's streets are often lined with street markets. In London's most popular markets you can find new and second-hand clothes, antiques, books, souvenirs, fruit, vegetables, food and just about anything else you can think of.
Here are the details of London's best known and most visited markets:
Camden Market (Camden Town)
Camden Market is made up of several markets located along Chalk Farm Road and Camden High Street. It is one of the most famous and busiest markets in London. Its main peculiarity is that you can see very extravagant people, according to many of the stalls and shops where they sell quirky clothes and weird objects.
If you are looking for a market where you can find almost anything, this is the place for you. Many tourists flock to this market as, apart from wandering the streets of this quirky area and finding a bargain, they take the opportunity to eat outdoors and buy something from one of the many stalls and food stalls.
The shops are open from Tuesday to Sunday from 9:30am to 5:30pm and the street stalls at weekends from 8:00am to 6:00pm. To get to the market you can take the underground from Camden Town station.
Portobello Market
This market, although the most popular in London, is also the most expensive. Located in the famous Notting Hill neighbourhood, the market stretches along Portobello Rd, the street from which it takes its name. The market's speciality is antiques, but there are also souvenir, vegetable and food shops. Portobello Market's biggest day is Saturday, when hundreds of street stalls are set up.
You can take advantage of your visit to this market to buy some food in one of the shops and stalls and eat while you stroll through the streets, contemplating the peculiar coloured houses.
The shops are open from Monday to Saturday from 10:00h to 17:00h and the street stalls on Saturday mornings. To get to the market you can take the underground from Notthing Hill Gate station.
Spitalfields Market
This covered market, located in the East End, is noted for its organic and quality food shops, especially on Sundays when it sells exclusively organic produce, such as organic fruit and vegetables and a range of herbs with a multitude of properties. It is also known for its fashionable clothes shops at more or less affordable prices. Antiques, books and records stalls have their place, although they are in the minority at this market.
An original feature of Spitalfields Market is the chess tournaments that are organised here. It is open every day from 11:00h to 15:00h. The Organic Market is open on Sundays from 9:30am to 5:30pm.
To get to the market you can take the underground from Shoreditch High Street or Liverpool Street.
Petticoat Lane Market
This long-established market is located on Middlesex Street and Wentworth Street, although it extends to other nearby streets.
Here you can find good value goods, especially clothes, but you can also find household goods, electronics, jewellery, books, etc....
It is open Monday to Friday from 09:00 to 17:00, while on Sundays, the busiest shopping day, it is open from 09:00 to 14:00.
También te puede interesar leer: