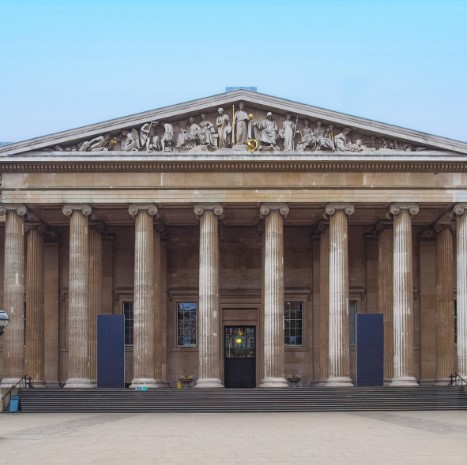 The British Museum is the largest museum in the United Kingdom and one of the most important in the world. Since its opening in 1759, it has amassed a collection of more than 7 million objects from every continent.
The building where the British Museum is currently housed is an imposing neoclassical building designed by Robert Smirkey and completed in 1857.
Over the decades the museum has undergone several extensions, which were necessary to accommodate its large art collections.
For space reasons, all of the more than seven million pieces are not on display at the same time, but some are rotated so that visitors can see other collections on subsequent visits. The rest are in the process of study and reconstruction.
The collections are perfectly divided according to their origin. Among the different departments are the Roman and Greek antiquities department; the ethnography department with objects from different indigenous peoples of the world; the Oriental antiquities department; the West Asian antiquities department with objects from 5,000 BC; and the Egyptian antiquities department, which is the most popular and has the most objects, including sarcophagi, mummies, papyrus and the famous Rosetta Stone.
The British Museum also has the so-called Reading Room, the former location of the British Library before it moved to another building nearby, which now holds over 40,000 volumes, a tiny part of the museum's collection of over 150 million books, maps, and a wealth of written documentation.
The best thing about the British Museum is that, unlike other museums, admission is free, which is an advantage if you want to visit over several days.
Location: Great Russell Street, London, WC1B 3DG.
Underground stops at Tottenham Court Road and Holborn.
También te puede interesar leer: