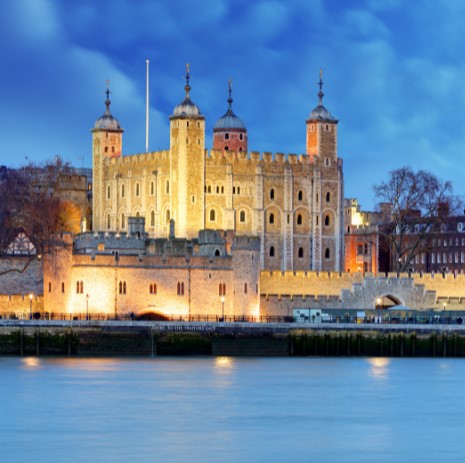 The Tower of London is one of London's most historic landmarks. It stands on the north bank of the River Thames in the Tower Hamlets district, a strategic location for the defence of the city. The Crown Jewels are safely stored in the tower.
The construction of this fortress dates back to 1070, when King William the Conqueror ordered its construction after the conquest of England in 1066 to defend the city from possible enemies and to gain the respect of the population.
The first phase of the tower was a temporary wooden building, which in 1097 was replaced by the White Tower that we can see today in the centre of the walled complex.
In the 12th and 13th centuries the fortress was considerably extended during the reigns of Richard the Lionheart, Henry III and Edward I, adding the two walled rings with 19 towers, thirteen on the inner wall and six on the outer wall.
The main function of the Tower of London was to protect the city from possible Anglo-Saxon attacks, although in later years it was given new uses as a prison reserved for high-ranking personalities. Kings, aristocrats and clerics accused of treason were imprisoned, tortured and some executed here.
Among the personalities who were executed inside the tower for high treason were Henry VIII's wife, Anne Boleyn, and the lawyer, writer and politician Thomas More, among other royalty, such as Queen Jane Greay and several earls and countesses. Apart from serving as a fortress, prison and royal palace, it has also served as a storehouse of arms and treasure, a mint and a refuge.
Today it is a popular tourist attraction. Tourists are attracted by the mysteries of the Tower and the Crown Jewels that are kept here, which are surrounded by an extensive security system and can be admired through bulletproof glass.
We recommend that visitors go early in the morning to avoid the long queues and buy their tickets at the nearest tube station (e.g. Tower Hill or London Bridge stations) so as not to queue at the Tower ticket office as well.
Location: The Tower of London, Tower Hamlets district. London EC3N 4AB, Reino Unido - Telephone: +44 20 3166 6000
Transport: Underground: Stop at Tower Hill station.
Bus: Lines 8, 9, 11, 15, 15B, 22B, 25, 133 and 501.
También te puede interesar leer: