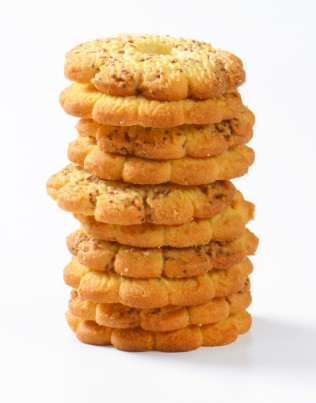 Cooking recipes - Desserts - How to make Vanilla biscuit?
A very good recipe for vanilla biscuits. The fresh cream and yeast give lightness to these vanilla biscuits. The children are quickly fans of these biscuits with a tender vanilla taste. Although not too sweet, the vanilla biscuits are a good match for children's tastes.
The ingredients of the vanilla cookies :
100 g melted butter
1 whole egg
1 spoonful of fresh cream
1 sachet of vanilla sugar
1/2 sachet of baking powder
Baking paper
The steps of vanilla cookies :
Preheat the oven to 200°C.
Place a sheet of greaseproof paper on the baking sheet.
Melt the butter.
Put all the ingredients in a large bowl and mix well.
Make a ball out of the dough and place it in the freezer for 5 minutes or in the refrigerator for 15 minutes.
Form into small balls, flatten them between the palms of your hands and place them on the baking sheet.
Bake for 10 to 12 minutes until the vanilla biscuits have browned.
Remove the vanilla biscuits from the oven and place them on a rack to cool.
🔆 Other recipes