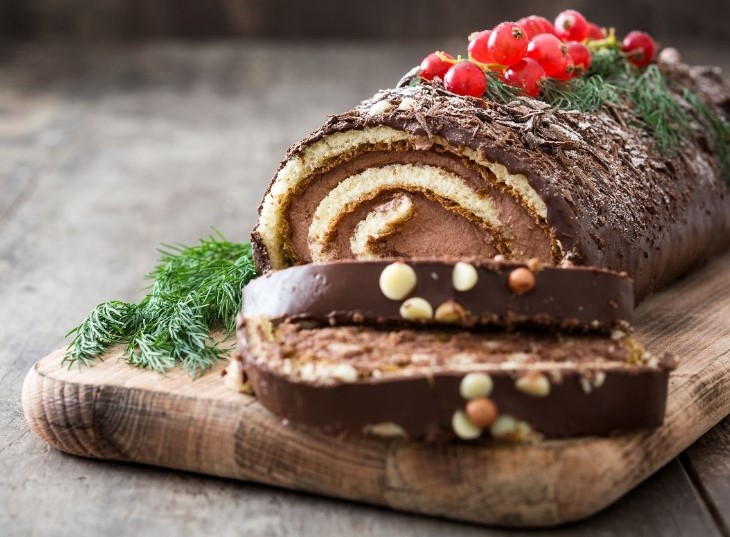 Cooking recipes - Desserts - How to make Chocolate Log with Nutella?
Here is a must-have Christmas dessert that children will be delighted to make! This Nutella log recipe is very easy and quick to make.
As for the ingredients, all you need are eggs, flour, sugar and salt to prepare the sponge cake. Then, all you have to do is fill it and cover it with a generous layer of spread. It's a simple and delicious treat.
How long does it take to make your Christmas log?
Preparation: 20 min
Cooking time: 15 min
The ingredients to make your Christmas log :
For 6 people:
200 g of Nutella
4 eggs
120 g powdered sugar
40 g flour
1 pinch of salt
The steps of the recipe for your Christmas log :
Preheat your oven to 180°C
Separate the whites from the yolks. Pour the powdered sugar with the yolks and whisk for a few minutes until the mixture whitens and becomes frothy. Add the sifted flour. Mix well to obtain a homogenous mixture.

Pour the egg whites into another bowl. Add a pinch of salt. Beat the egg whites until stiff. Gradually add them to the previous preparation. Mix gently using a maryse.
Place a baking sheet on a baking tray. Spread the dough on the sheet. Bake for 10 to 15 minutes.
When the biscuit is well baked, remove it from the oven. Place it on a clean, damp cloth. Gently roll the biscuit up and let it take its shape for a few moments.
Carefully unroll the biscuit and coat it with the spread. Roll up again, tightly. Coat the log with the spread. Cut off the 2 ends of the rolled cake to get a perfect finish. Decorate as you wish.
Tip: For an even tastier Christmas rolled cake, you can flavour the biscuit with liquid vanilla and make a syrup to soak it. To do this, boil 3 cl of water, 2 cl of rum and 125 g of caster sugar until you obtain a syrup. Soak the sponge cake in cold syrup before covering it with Nutella.
🔆 Other recipes