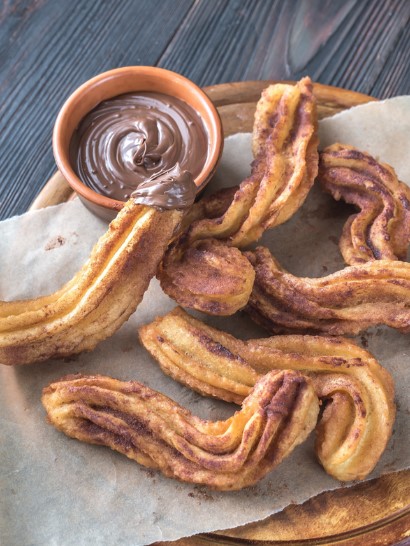 Cooking recipes - Desserts - How to make real churros in Nutella?
How would you like to make delicious churros in a gourmet way? Here is a tasty recipe for these famous fritters from Spain.
However, do not make these churros with children and protect your hands well when cooking, as there may be some oil splashes. However, if you follow all our advice, you are sure to succeed with this recipe. You'll get deliciously crispy churros to dip in a little Nutella®
The ingredients for Nutella® churros:
For 4 people:
125 g flour
1/4 litre of water
1 pinch of salt
125 g of Nutella®
frying oil
sugar powder
Steps in the recipe for Nutella churros:
Pour the flour and a pinch of salt into a salad bowl. Pour the water into a saucepan and bring to the boil. When it begins to boil, remove the pan from the heat and pour over the flour. Stir with a wooden spoon until a homogeneous paste is obtained.
Transfer the dough obtained to a churro press. If you don't have one, you can also use a pocket with a fluted tip.
Heat the frying oil until it reaches 180° C. Press on your churro press (or sleeve pocket) and cut sticks about 10 cm long. Make sure that the oil does not exceed 200°C, as your churros may explode. Protect your hands well during this handling, as there may be some oil splashes. Fry the churros for about 2 minutes in boiling oil, turning them over during cooking.
Place the cooked churros on a sheet of absorbent paper and sprinkle them with powdered sugar. Serve them with the Nutella® and eat them while still warm.
Tip: For a lighter version, which you can make with the children, choose to bake the churros in the oven. To do this, using a piping bag, form churros on a baking sheet covered with baking paper. Bake for 30 minutes at 200°C so that the churros are golden brown. Remove from the oven, sprinkle with caster sugar or icing sugar and eat immediately.
🔆 Other recipes