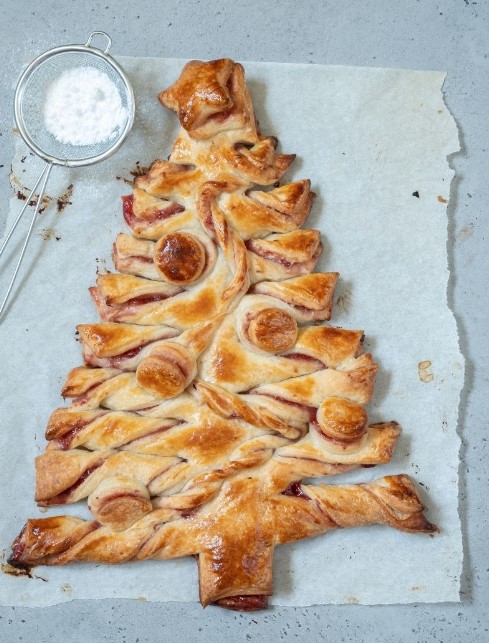 Cooking recipes - Desserts - How to make Puff pastry Christmas tree with Nutella?
You've probably already come across this Nutella tree on social networks. Festive and gourmet, this puff pastry is ideal for your Christmas dessert. Easy and quick to make, children will enjoy making this crispy puff pastry tree.
For mothers who are resistant to Nutella, make this recipe with gourmet fillings that your children love: salted butter caramel, melted chocolate, speculos spread, lemon curd, Christmas jam, peanut butter, compote, and praline for example.
To decorate this puff pastry tree, think of dried fruit, Christmas stars made of sugar or barley sugars, coloured Haribo® sweets.
How long does it take to make a Nutella laminated tree?
Preparation: 15 min
Cooking time: 30 min
The ingredients to make a Nutella flaky tree:
For 4 people:
2 puff pastes
200 g of Nutella
1 egg yolk
Icing sugar
The steps of the recipe of the Nutella flaky Christmas tree:
Preheat your oven to 180°C. Spread the first puff pastry on your work surface.
Spread the spread over the entire surface of the dough with a spoon. Cover with the second puff pastry.
With a sharp knife, cut the dough into the shape of a Christmas tree. Cut strips of dough on each side, leaving about 3 cm intact in the centre.
Roll each of the strips of dough into twists. Using a brush, brush each of the twists with beaten egg yolk.
Bake for 20 to 30 minutes until the dough is golden brown. Remove from the oven and sprinkle with icing sugar. Enjoy this puff pastry with lukewarm or cold Nutella as a dessert or snack.
Tip: You can also make this puff pastry recipe in a savoury version for your Christmas aperitif. It's a great idea, very easy to make and will originally decorate your table for Christmas. For a savoury gourmet version, make your own home-made puff pastry as well as your filling. Replace the puff pastry with homemade basil pesto, aubergine caviar or tomato sauce.
🔆 Other recipes