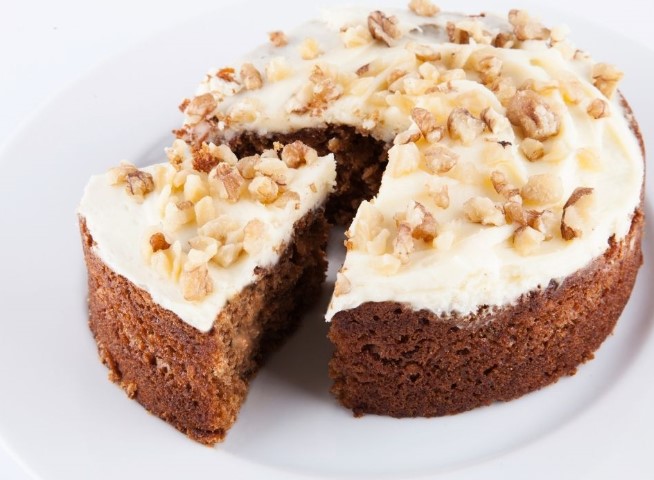 Cooking recipes - Desserts - How to carott cake? 🍰
Find out how to make a real spice carrot cake with fresh cheese frosting.
Carott cake is a typical Anglo-Saxon recipe, creamy and soft, which is very often appreciated by young and old alike. In spite of its name, it is important to know that you can't smell the carrot at all. This ingredient has just been chosen for its sweetness and makes this cake really delicious.
The carrot cake: the ingredients 🥕🥕
150 g carrot
2 medium size eggs
1 orange
120 g of flour
80 g brown sugar
60 g caramelised nuts or pecans
1 teaspoon powdered cinnamon
1/2 plain yoghurt
1/2 teaspoon walnut oil
1/2 teaspoon baking soda
50 g butter
100 g icing sugar
150 g Philadelphia cream cheese
The carott cake: the steps 🥕🥕
Start by preheating the oven to 180°C.
Peel and grate the carrots.
In a salad bowl, start by mixing the dry ingredients (flour, sugar, bicarbonate of soda).
Make a well to put the eggs and yoghurt in, mixing with each addition.
Add the carrots and mix.
Add the nuts and mix again.
Now add the orange zest, spices and walnut oil.
Pour the mixture into a buttered springform pan and leave it to cook for 45 minutes. (Check the cooking before taking it out for good).
For the icing, mix together the butter and icing sugar.
Gradually add the fromage frais.
Once the cake is completely cold, cut it in half in the centre.
Now you just have to coat the cake in the centre and around it.
🔆 Other recipes