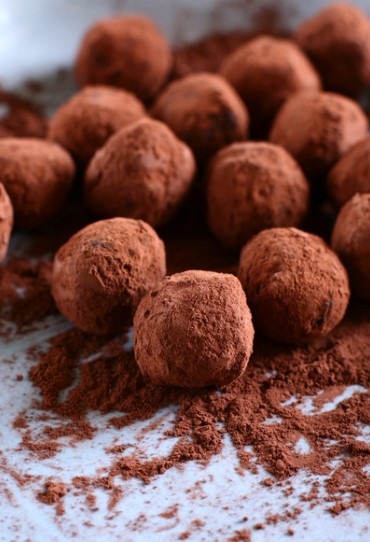 Cooking recipes - Desserts - How to make Christmas truffles with Nutella?
Small traditional Christmas sweets, truffles are the delight of all chocolate lovers. Here is a Nutella version that the little ones will enjoy making and tasting.
These must-have Christmas sweets are the perfect gourmet gift to please in all simplicity. Make these Nutella truffles, place them in a small box and place them at the foot of your Christmas tree... Success guaranteed!
How long does it take to make Nutella truffles?
Preparation : 10 min
Cooking time: 5 min
Rest: 2 h
The ingredients for Christmas truffles with Nutella:
For 4 people:
For coating:
The stages of the recipe for Christmas truffles with Nutella:
Pour the liquid cream into a saucepan and heat over medium heat. In the meantime, dice the butter and crush the dark chocolate into pieces.
When the liquid cream starts to boil, remove the saucepan from the heat. Pour the hot cream over the butter and the crushed chocolate. Using a spatula, mix well to obtain a smooth and homogeneous preparation. Add the spread and mix well.
Cool the ganache and place it in the fridge for 2 hours.
Pour a little cocoa powder onto a plate. Use a spoon to scoop out small nuts from the ganache. Roll them in the cocoa powder, giving them a rounded shape. Repeat the operation until the ganache is exhausted. Place the truffles in the fridge until ready to serve.
For decoration, get the children to participate and they can have fun coating these Nutella truffles in many different ways: with crushed dried fruit (hazelnuts, walnuts, pistachios...), grated coconut, chocolate powder...
Tip: Lovers of sweeter sweets can make a version with white chocolate and coconut. To do this, heat 10 cl of liquid cream. Add 200 g of crushed white chocolate. Place the ganache in the fridge and proceed in the same way as for the Nutella truffles, coating them with coconut.
🔆 Other recipes