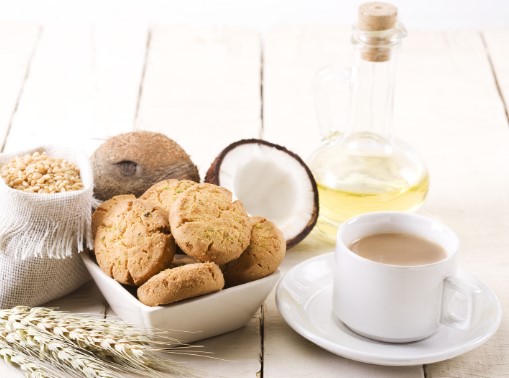 Cooking recipes - Desserts - How to make Coconut biscuit?
An express coconut biscuit recipe. The coconut biscuit recipe is perfect for cooking with children on Wednesdays, weekends or during the holidays. Coconut biscuits are perfect as a sweet little oven. Beware, if you cook with children it is better to do without rum, as children often have the annoying habit of tasting the raw dough in secret.
Ingredients of the coconut biscuits :
1 spoonful of rum to flavour the biscuits
100 g grated coconut
1 whole egg
1 egg yolk
1 tablespoon fresh cream
1 sachet of vanilla sugar
1/2 sachet of baking powder
Baking paper
The stages of the coconut biscuits :
Preheat the oven to 200°C.
Melt the butter in the microwave then mix it with the coconut and the fresh cream.
Put all the ingredients (flour, sugar, vanilla sugar, 1 whole egg, 1 egg yolk, yeast and butter-coco-fresh cream mixture) in a large bowl and mix well. Remove the rum if the recipe is made with children.
Roll the dough into a ball and place it for 5 minutes in the freezer or 1/4 hour in the refrigerator to harden slightly.
Form small balls the size of walnuts and flatten them between the palms of your hands.
Place a sheet of baking paper in the oven dish and place the coconut biscuits on top.
Bake the biscuits for 10 to 12 minutes depending on their size.
Remove the coconut biscuits from the oven and place them on a rack to cool.
The coconut biscuits can be stored in a metal tin as long as they are kept cold.
These coconut biscuits can find their place in a buffet of dry petits fours.
🔆 Other recipes