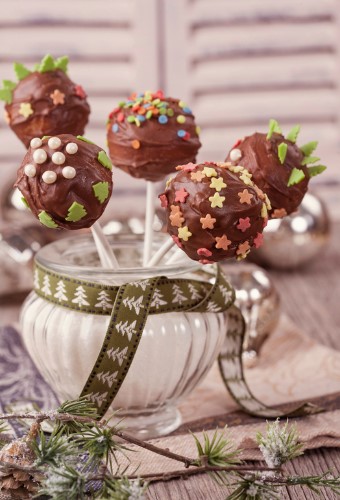 Cooking recipes - Desserts - How to make Christmas Pop Cake?
A chocolate pop cake that your guests will love.
Pop cake has become one of the favourite cakes of the kids. Gourmet but with a reasonable portion, it is a mouth-watering appetizer to be crunched. Here is a chocolate version for Christmas decorated with sugar beads and white chocolate vermicelli. A delight!
The ingredients of your recipe:
1 Homemade or store-bought quarter-quart
2 CS of mascarpone
4 CS of icing sugar
200 gr of pastry chocolate (dark or milk)
Coloured sugar balls
Chocolate vermicelli
The steps of the recipe:
1. Powder your pound cake
2. Mix by hand by adding the mascarpone and icing sugar. The dough obtained must remain compact but malleable.
3. Roll a little dough in your hands to make balls of similar size.
4. Arrange the balls on a plate passing through your freezer and covered with a sheet of aluminium foil.
5. Melt the chocolate in a double boiler and then take the cake balls out of the freezer.
6. Dip a stick in the chocolate and prick a ball. Leave the chocolate to cool to stick the cake to the stick for 2 minutes.
7. Now dip the ball into the chocolate completely, let it drain and drop the excess chocolate.
8. Decorate with sugar balls, chocolate vermicelli and keep at least 1 hour in a cool place.
🔆 Other recipes