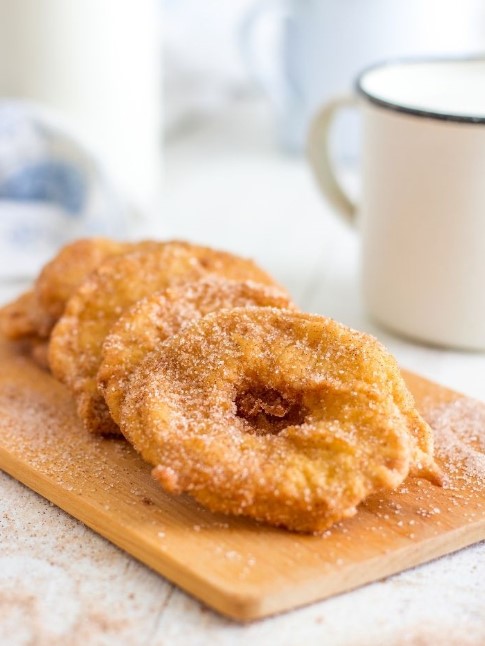 Cooking recipes - Desserts - How to make apple fritters with caramel sauce?
Here's a gourmet recipe that will allow you to vary from classic Nutella® or jam-flavoured doughnuts.
Let yourself be tempted by this version of apple fritters with caramel sauce.
The combination of fruit and caramel is a true delight that will delight the taste buds of all gourmets. Don't waste a minute to discover our delicious recipe!
The ingredients for apple fritters with caramel sauce (for 4 people):
For the apple fritters:
4 apples
250 g flour
1 sachet of vanilla sugar
2 tbsp. oil
20 cl milk
2 eggs
1 sachet of baking powder
1 pinch of salt
For the caramel sauce:
150 g caster sugar
4 tablespoons of water
20 cl of liquid cream
30 g soft butter
The steps of the recipe for apple fritters with caramel sauce:
First, prepare the apple fritters. To do this, peel the apples, cut them into slices and remove the seeds. Sprinkle them with vanilla sugar. Reserve
Pour the flour, baking powder and salt into a salad bowl. Mix and dig a well in the centre. Pour in the eggs and oil. Stir and then gradually add the milk until a homogeneous dough is obtained.
Heat the frying oil. Dip the apple slices into the fritter dough and then dip them into the hot oil. Fry for a few minutes, turning the fritters halfway through so that they are golden brown. Repeat the operation until all the ingredients are used up. Set aside. Place the fritters on a sheet of absorbent paper.
Prepare the caramel sauce. Pour the sugar into a saucepan and add the water. Heat over medium heat, without stirring, until a brown caramel is formed. Remove the pan from the heat and add the butter. Stir to combine. Stir in the liquid cream and return the saucepan to the heat. Heat over low heat until a homogeneous caramel is obtained. Pour the sauce into a bowl.
Serve the apple fritters with this warm caramel sauce.
Tip: For variety, you can make this donut recipe with other fruits. For example, replace the apples with slices of pineapple. You will obtain even fruitier fritters that you can also serve with this delicious caramel sauce.
🔆 Other recipes