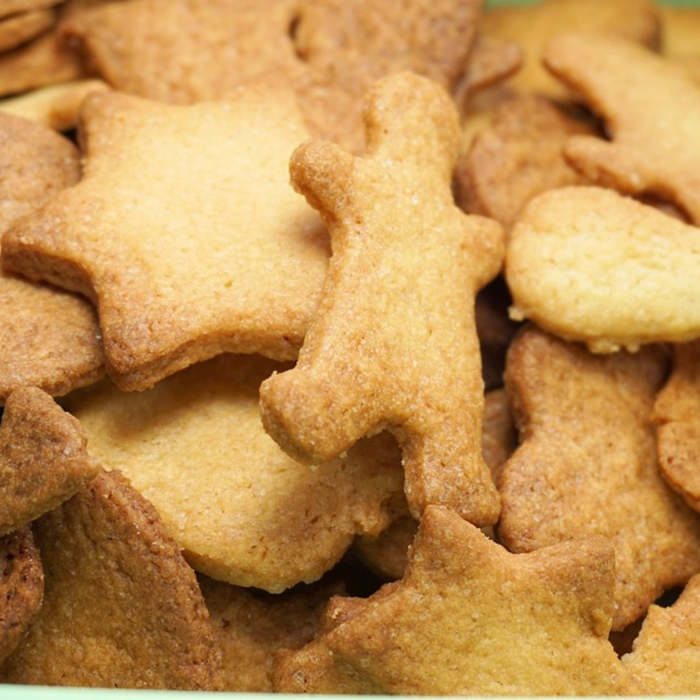 Cooking recipes - Desserts - How to make Homemade Christmas biscuits?
Ingredients
2 sticks unsalted butter (200g)
1 cup icing sugar (170g)
1 egg
1 teaspoon vanilla extract
1 ½ teaspoons almond extract (optional)
2 ½ cups all-purpose flour (approx. 300-320 g)
1 teaspoon salt
Preparation:
Mix the butter and sugar with a hand mixer or a stand mixer fitted with a flat beater. Add the egg and mix well.
Add the extract(s) and mix. Combine the flour and salt in a bowl and gradually add to the wet mixture, beating on low speed to combine.
Cover and let the dough rest in the refrigerator for 2 hours.
Preheat the oven to 180ºC. Knead briefly on a floured surface and roll out the dough with a rolling pin to a thickness of about 6-7 mm.
Cut out the biscuits with a biscuit cutter and bake on a tray lined with parchment or baking paper for 14-16 minutes until the edges are golden brown. Smaller biscuits may need less time and larger cookies may need up to 18 minutes.
This homemade biscuit recipe yields 8 to 10 large biscuits or 20-25 smaller biscuits.
🔆 Other recipes