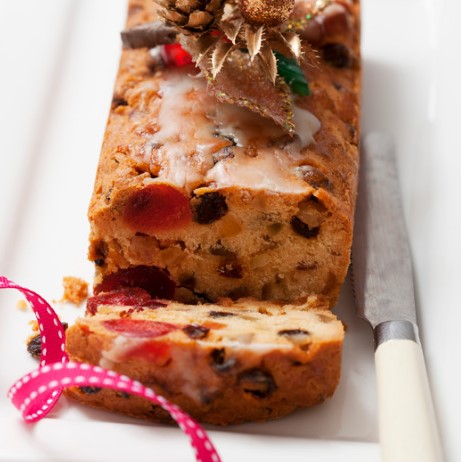 Cooking recipes - Desserts - How to make Christmas fruit cakes?
Ingredients :
2 cups currants
2 cups candied citrus peel mix
1 1/2 cups coarsely chopped candied pineapple
1 1/2 cups candied red cherries, halved
1 1/2 cups sultanas
1 cup dark rum or brandy
2 cups flour
2 teaspoons baking powder
1/2 teaspoon baking soda
1/4 teaspoon ground allspice
1/4 teaspoon ground cinnamon
1/4 teaspoon ground nutmeg
1 pinch of salt
3/4 cup softened butter
1 cup packed brown sugar
1/3 cup strawberry jam
2 tablespoons molasses
5 eggs
1 1/2 cups chopped walnuts
Preparation :
In a large bowl, combine currants, citrus peel, pineapple, cherries, sultanas and 3/4 cup (180 ml) rum. Cover and let stand at room temperature for 24 hours (stirring occasionally).
In a bowl, whisk together flour, baking powder, baking soda, allspice, cinnamon, nutmeg and salt. Add 1/2 cup (125 ml) of the dry ingredients to the macerated candied fruit and mix. In a separate bowl, using an electric mixer, beat butter with brown sugar, jam and molasses until fluffy. Beat in the eggs, one at a time, then stir in the remaining dry ingredients all at once until the batter is smooth. Add the candied fruit mixture and nuts and mix. Pour batter into a 13" x 9" (33 cm x 23 cm) parchment-lined cake pan and smooth the top.
Place a cake pan filled halfway with water on the bottom rack of a preheated 300ºF (150ºC) oven. Place the cake on the middle rack and bake for 1 hour. Loosely cover the top of the cake with foil and bake for 45 to 60 minutes or until a toothpick inserted in the centre of the cake comes out clean but slightly sticky. Place the pan on a wire rack and let cool completely.
Unmould the cake and remove the parchment paper. Using a double layer of cheesecloth, cut out a 16-inch (40 cm) square and dip in the remaining rum. Wrap the cake in the rum-soaked cheesecloth, then in plastic wrap and finally in aluminum foil. Refrigerate for 1 month. (The cake will keep for up to 3 months in the refrigerator).
When ready to give, cut the cake into 6 bars.
A good tip
For a gourmet version: before wrapping the cake, you can top it with a thin layer of marzipan and then cream cheese icing.
🔆 Other recipes