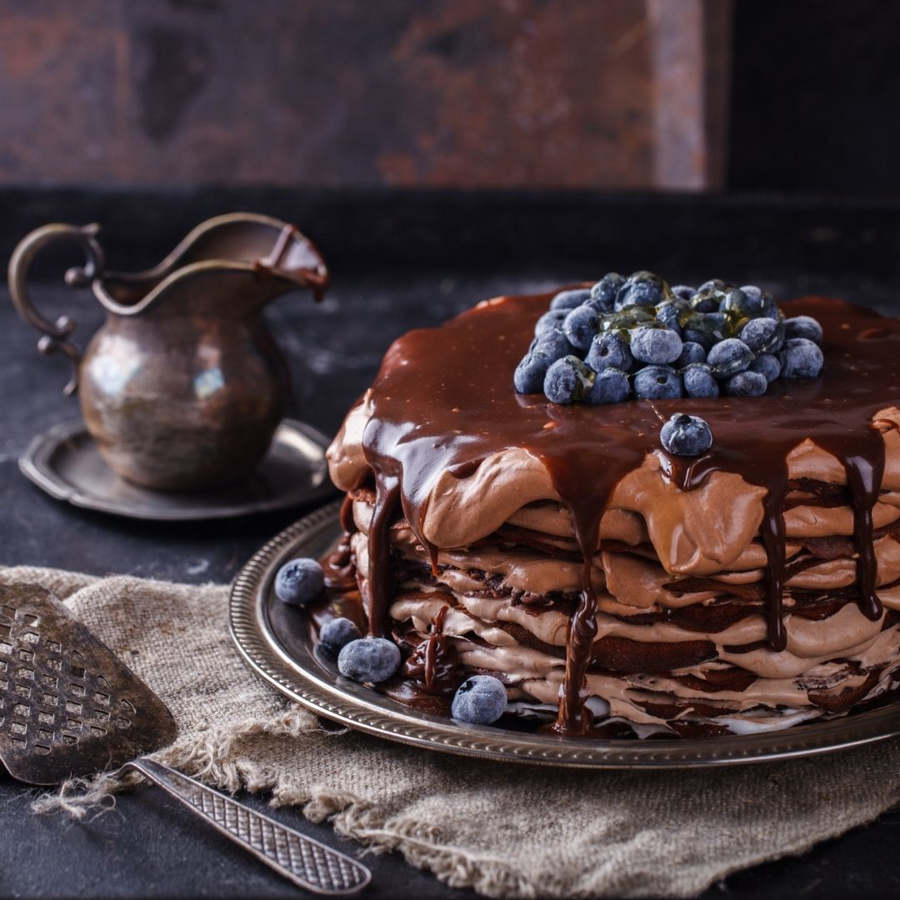 Cooking recipes - Desserts - How to make Chocolate pancake cake?
Here is a recipe for chocolate pancake cake that should appeal to children and adults alike.
The principle is simple, just prepare a classic pancake batter, then alternate the pancakes with a chocolate filling. You will obtain an original and gourmet cake that is best eaten with a scoop of vanilla ice cream. This is a perfect recipe to replace traditional pancakes and to delight the whole family.
The ingredients for a chocolate pancake cake of 8/10 parts:
For the pancake batter:
100 g flour
100 g maize starch
4 eggs
50cl of milk
2 packets of vanilla sugar
30 g butter
1 pinch of salt
For the trim:
200 g dark chocolate
20 cl of liquid cream
Recipe steps for the chocolate pancake cake:
First, prepare the pancake batter. To do this, pour in the cornstarch and flour. Dig a well in the centre. Pour in the eggs, beaten beforehand. Mix with a whisk while gradually adding the milk. Add the vanilla sugar, the pinch of salt and the butter, melted beforehand. Mix well until you obtain a smooth and homogeneous paste. Leave the dough to rest for about 30 minutes at room temperature.
Heat a pancake pan and butter it. Pour a ladle of batter into the pan and distribute it evenly. Cook your pancake over medium heat for about 1 minute. Turn the pancake over with a wooden spatula. Leave to brown on the other side. Set aside.
Prepare the chocolate filling. Finely crush the chocolate and pour it into a salad bowl. Pour the liquid cream into a saucepan and heat over low heat until it boils. Remove from the heat and pour the hot cream over the crushed chocolate. Mix with a whisk until smooth. Set aside.
Place a first pancake in the bottom of your pancake tin. Spread an even layer of chocolate ganache over the entire surface of the pancake. Cover with another pancake, then the ganache and so on until all the ingredients are used up. Cover your pancake cake with cling film and place it in the fridge for at least 3 hours. Carefully unmould the cake.
Tip: Pancake cakes can be made with many ingredients. You can, for example, make an apple version. To do this, peel and seed 8 apples and cut them roughly. Pour them into a saucepan with the seeds of a vanilla pod, 50 g of sugar and 20 cl of water. Cook until the apples are melting. Proceed in the same way as for the chocolate cake, replacing the ganache with the cooked apples.
🔆 Other recipes