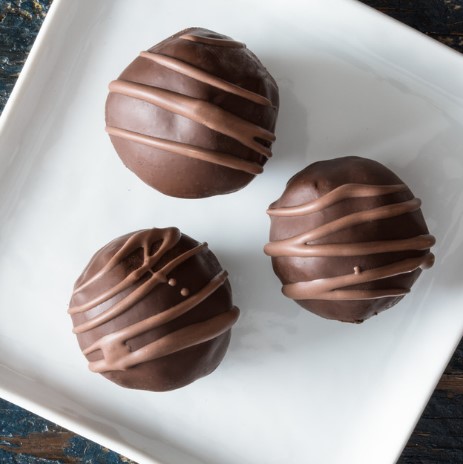 Cooking recipes - Desserts - How to make Biscuit dough truffles?
The ingredients of the Biscuit dough truffles :
1/2 cup unsalted butter, softened
1 tablespoon unsalted butter
1 teaspoon vanilla
1/4 cup packed brown sugar
2 cups flour
1/2 teaspoon salt
300 mL sweetened condensed milk
1 cup miniature chocolate chips
8 oz. coarsely chopped bittersweet chocolate
The steps of Biscuit dough truffles :
In a bowl, using an electric mixer, beat 1/2 cup (125 mL) butter, brown sugar and vanilla until smooth and creamy. Beat in flour and salt on low speed, alternating with condensed milk. Add the chocolate chips and mix with a wooden spoon.
Shape biscuit dough into balls about 3/4" (2 cm) in diameter. Place balls on a parchment-lined biscuit sheet. Freeze for 30 minutes or until firm (balls will keep for up to 1 week in refrigerator and up to 1 month in freezer).
Meanwhile, in a metal bowl set over a pan of hot but not boiling water, melt the chopped chocolate and remaining butter, stirring until smooth. Remove the pan from the heat.
Line another baking sheet with parchment paper. Using 2 forks, dip the cold biscuit dough balls one by one into the melted chocolate so that they are well coated (let the excess chocolate run off). Place the truffles on the baking sheet. Refrigerate for 30 minutes or until chocolate has hardened.
Pour the remaining melted chocolate into a small resealable bag (Ziploc type). Seal the bag and make a small hole in one of the bottom corners. Gently squeeze the bag and drizzle the chocolate over the truffles.
🔆 Other recipes