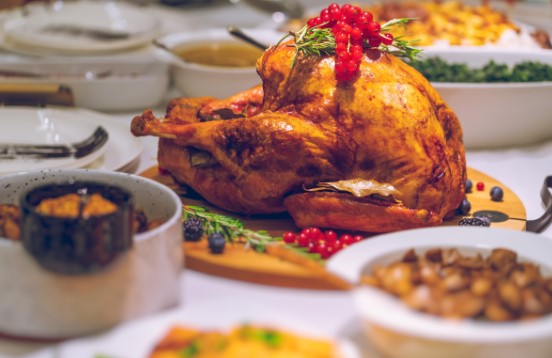 Cooking recipes - How to make Turkey stuffed with prunes and cranberries?
This festive turkey stuffed with prunes and cranberries is a must try recipe to delight all your guests!
Ingredients :
1 farm turkey of 3 kg
250 g Poultry liver
120 g Semi-cooked foie gras
150 g Prunes
100 g Cranberries
60 g walnut kernel
1 Shallot
60 g white or brioche bread crumb
25 cl Milk
1 Egg
50 g Butter
3 tablespoons Cognac
Nutmeg nutmeg
Salt and pepper
The steps of Turkey stuffed with prunes and cranberries :
Peel and chop the shallot. Melt it for 2 to 3 minutes in a frying pan in 15 g of butter. Add the deveined chicken livers. Sear them for 2 minutes over high heat. Add salt and pepper. Cut them into small pieces as well as the foie gras. Chop the walnut kernels and add 80 g of cranberries and 100 g of prunes cut into pieces. Put everything in a bowl.
Soak the bread crumb in the milk, squeeze it to drain it. Add it to the bowl with the beaten egg, nutmeg and 2 tablespoons of cognac. Add salt and pepper. Mix.
Fill the turkey with this stuffing. Close the opening with spikes or sew with a large needle and kitchen string. Season with salt and pepper. Tie the turkey. Put it in a roasting pan. Coat it with butter. Put the dish in the cold oven. Light it on 180 °C (th. 6). Leave to cook for 1 h 30, basting the turkey frequently with its juice, diluted with 1 to 2 tablespoons of water. Add the remaining cranberries and prunes. Continue cooking for 1 h in the oven at 160 °C (th. 5-6).
After cooking, let the turkey stand upright in a bowl upside down for 15 minutes to allow the juices to spread through the tenderloin meat. Degrease the juice. Deglaze with 10 cl of cold water. Boil and reduce by scraping the juices. Add 1 tablespoon of cognac. Present this juice with the turkey.
🔆 Other recipes