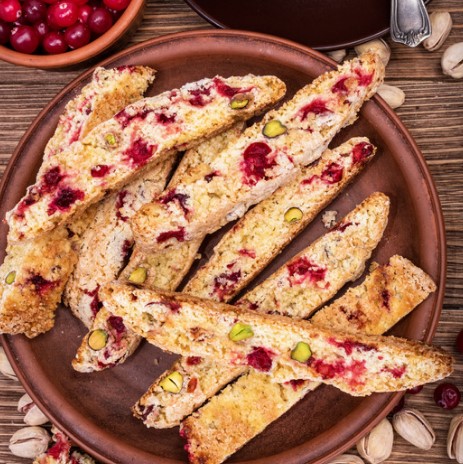 Cooking recipes - Desserts - How to make Pistachio and cranberry biscotti?
Ingredients :
1/2 cup softened butter
1 cup sugar
2 eggs
1 teaspoon vanilla
2 1/2 cups flour
2 teaspoons baking powder
1/4 teaspoon salt
1 cup unsalted pistachios
1 cup dried cranberries
1 egg white
1 teaspoon water
10 oz chopped white chocolate, melted
Preparation :
In a large bowl, beat butter with sugar until fluffy. Beat in eggs, one at a time, then vanilla. In another bowl, whisk together flour, baking powder and salt. Add the dry ingredients to the butter mixture, in two batches, and mix until the batter is smooth. Add pistachios and cranberries and mix.
Separate the dough into two portions. On a lightly floured surface, shape each portion into a 12-inch (30 cm) long roll. Place rolls of dough on a large parchment-lined baking sheet, spaced 2 inches (5 cm) apart and flatten slightly. In a small bowl, whisk egg white with water. Brush the tops of the rolls with the mixture.
Bake in preheated 325ºF (160ºC) oven for 30 minutes or until rolls are firm and lightly browned. Remove the baking sheet to a wire rack and let rest for 10 minutes. Place rolls on cutting board. Using a serrated knife, cut on the bias into 1/2-inch (1 cm) thick slices. Place slices vertically on baking sheet, spacing them 1/2 inch (1 cm) apart. Continue baking in preheated 300ºF (150ºC) oven for 35 minutes or until biscotti are almost dry. Remove biscotti to a wire rack and cool completely.
Dip one end of each biscotti into melted chocolate (let excess drip off). Place biscotti on wax paper-lined baking sheet. Refrigerate for 20 minutes or until chocolate is set (Biscotti will keep for up to 1 week at room temperature or up to 1 month in the freezer).
🔆 Other recipes