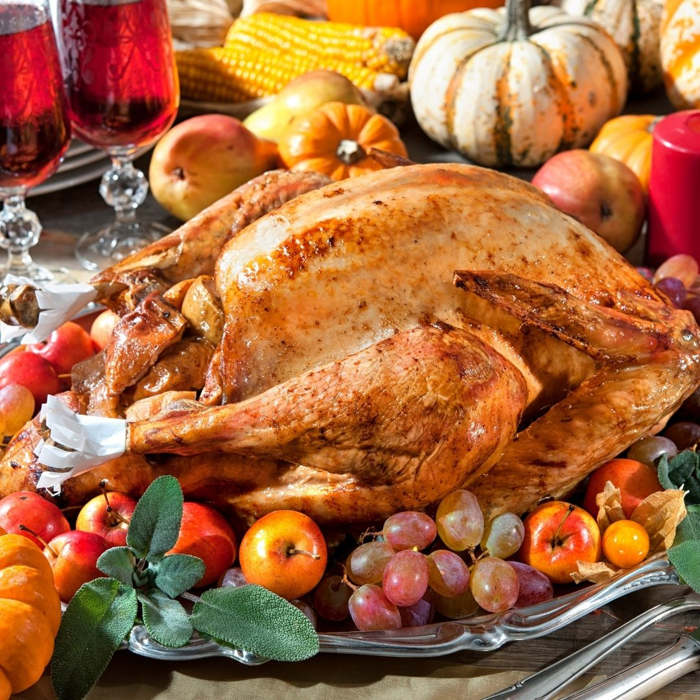 Cooking recipes - How to make thanksgiving turkey?
You must surely be wondering how you are going to cook the turkey you are going to serve to your guests for this Thanksgiving!
Indeed, the turkey is the true symbol of this celebration, consumed by Americans on this occasion for hundreds of years... But beware, making the perfect turkey for Thanksgiving is not an easy task, far from it! You'll have to be patient to get the congratulations of your friends and family for your turkey.
If you have ever celebrated Thanksgiving in the United States, you know that a good turkey must be tender and juicy, even if it weighs more than 8 kilos... A real challenge!
To achieve this feat, the bird must be prepared and waited for at least 12 hours, and then cooked for almost 4 hours! On this subject, make sure that your oven is big enough to accommodate the turkey before you buy it... It would be a shame to have to throw the turkey away because the oven is too small, or not be able to cook it properly, wouldn't it?
Ingredients:
A 8 kilo turkey
115gr butter
500gr salt
2 carrots
1 onion
2 stalks of celery
2 sprigs of thyme
1 bay leaf
White wine
Steps for making thanksgiving turkey:
The night before you plan to cook your Thanksgiving meal, wash the turkey and gut it to remove the giblets.
Then rub the turkey with salt before placing it in a container large enough to cover.
Cover the turkey with water and season with pepper, thyme or rosemary to taste.
Place the turkey in the refrigerator overnight.
On the day of your meal preparation, remove the turkey from the container and wash it again before letting it dry out completely. Meanwhile, preheat the oven to 175 degrees Celsius.
Once the turkey is dry, turn it over, breast side down, and place it in the oven dish.
Melt about 60 grams of butter and brush the turkey with the melted butter, then stuff the turkey with the stuffing.
Before putting the turkey in the oven, tie up its legs and fill the dish with all the vegetables cut into small pieces. If you want more flavour, you can add a glass of white wine to flavour the vegetables at this point.
Put the turkey in the oven and bake until the inner temperature of the turkey reaches about 85 degrees Celsius.
At about 2 hours 45 minutes, turn the turkey over, being careful not to break it open (which would be a disaster for your stuffing), and brush the breast with the remaining melted butter (about 60 grams).
Depending on the weight of your turkey, it will take another 1 hour or 1.5 hours of cooking before you can remove the turkey from the oven.
Wait at least 30 minutes before carving.
🔆 Other recipes