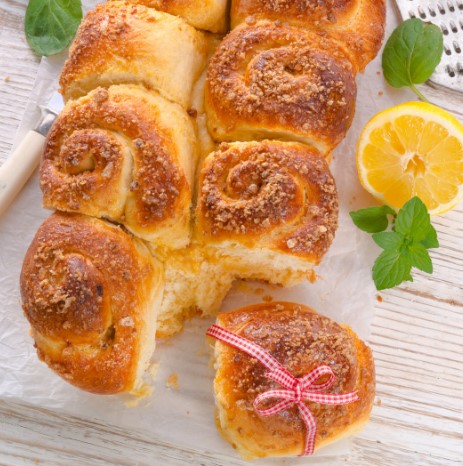 Cooking recipes - How to make Brioche?
Ingredients:
500 g flour T 45
3 tablespoons of sugar
1 sachet of vanilla sugar
9 g dry baker's yeast
1 egg white
3 tablespoons oil
200 ml warm milk
2 tablespoons soft butter
Half a teaspoon of salt
To garnish
Hazelnut spread or Nutella
Crushed almonds
1 egg yolk
1 teaspoon of instant coffee
Steps for making Brioche:
Pour the sifted flour, sugar, dry baking powder, vanilla sugar and salt into a bowl.
Mix the powders with a spatula, then add the egg white and oil.
Start kneading with your hands and then add the warm milk.
Continue kneading until you have a smooth roll.
At this point add the soft butter and knead it into the dough.
Transfer the dough to a lightly floured work surface and continue kneading for at least 5 minutes.
Shape into a ball and place in a bowl.
Cover with cling film and leave to rise for an hour.
After an hour, take the risen dough, transfer it to a lightly floured work surface and, using a rolling pin, roll it out into a rectangle about 1cm thick.
Cut out eight squares and place a tablespoon of hazelnut spread or Nutella on each square.
Close each square by forming a small ball and place in a buttered and floured 28cm tin, seven small balls along the edge and one in the centre.
Leave to rise for a further 15 minutes. After 15 minutes, brush with the beaten egg and dissolve the instant coffee.
With sharp scissors make a deep cross-shaped cut in each bun (the buns should almost open) and add a little more nutella and crushed almonds.
Bake in a preheated oven at 180°C for 40/45 minutes. Your brioche is ready, soft, fluffy and very tasty!
🔆 Other recipes