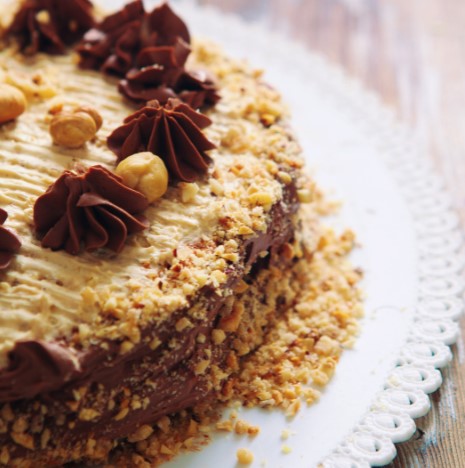 Cooking recipes - How to make Chocolate and hazelnut cake?
Ingredients:
2 Eggs
150 g Sugar
100 g Oil
200 g dark chocolate
100 g Flour T 45
120 g roasted hazelnuts (plus a few for decoration)
Half a sachet of baking powder
One sachet of vanilla sugar
Steps for making Chocolate and hazelnut cake:
Start preparing the chocolate cake by preheating the oven to 180°C and lining a baking tin with baking paper from a minimum diameter of 18 cm to a maximum of 24 cm. Set aside.
Melt the dark chocolate in the microwave or in a bain-marie and leave to cool.
Chop the hazelnuts not too finely with a blender or knife.
In a bowl, whisk the eggs with the sugar using electric beaters, continue to whisk for a few minutes, until the mixture becomes creamy, frothy and clear.
Add the dark chocolate and oil and continue to mix.
Add the flour, chopped hazelnuts, baking powder and vanilla sugar.
Whisk everything together at minimum speed or mix with a tablespoon, you should get a smooth mixture.
Pour the mixture into the tin and level it slightly using the back of a spoon. Decorate with a few extra nuts.
Bake the cake at 180°C for about 45 minutes.
The Chocolate Hazelnut Cake can be stored for several days in the fridge wrapped in aluminium foil.
🔆 Other recipes