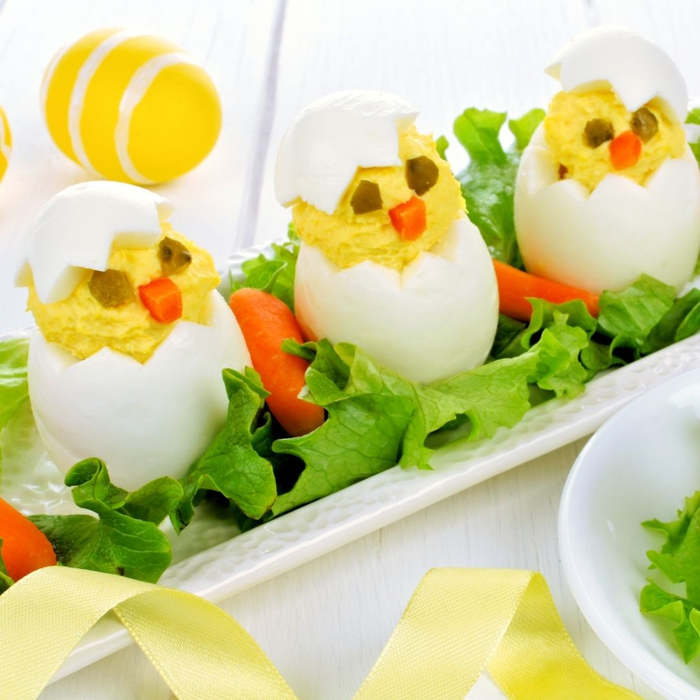 R
Cooking recipes - How to make eggs mimosa?
The mimosa egg is a classic! A way of eating eggs that children love. We suggest you add a touch of originality to your mimosa egg recipe by presenting them in the form of little chicks that come out of the egg. Children will love it. A good recipe idea for Easter or spring.
The ingredients for eggs mimosa (for 4 people):
For 4 eggs:
4 eggs
Mayonnaise
1 egg yolk
Mustard
Olive oil
lemon juice
And for decoration :
The steps for the mimosa egg
Start by cooking your eggs in boiling water for 10 minutes.
Plunge them directly into cold water. This will stop the cooking process.
Meanwhile, in a bowl, put the egg yolk and add half a tablespoon of mustard and mix.
While continuing to mix vigorously, add 6 tablespoons of olive oil.
Once your mayonnaise is well bound, add salt and pepper.
Remove your eggs from the cold water and remove the shells.
With a sharp knife, you will have to cut the egg into an open shell.
Remove the yolk with a teaspoon and add it to the mixture.
Mix the mixture well.
Put the mixture into the egg and close it.
Take your carrot and your olives and cut small pieces to make the eyes and the beak of the chick.
All you have to do is place them delicately on the mimosa egg.
Your little chick is ready!
Tip: Don't hesitate to cut out the base of the egg so that it stands upright.
🔆 Other recipes