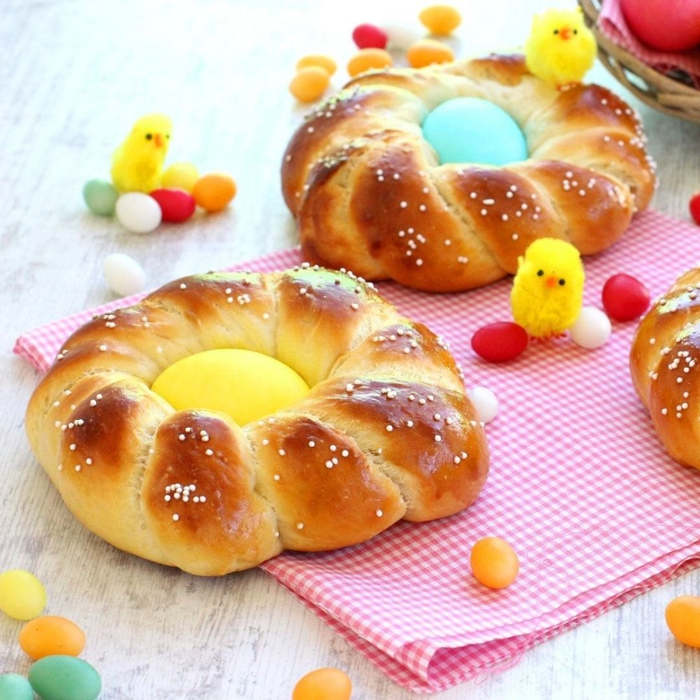 Cooking recipes - How to Mona de pascua recipe?
Mona de Pascua is a typical recipe for Holy Week and Easter in many Spanish regions, such as Valencia, Catalonia, Murcia, Aragon and the Balearic Islands. It is usually a tradition that the godfather gives the mona to his godchild on Easter Sunday and that several families get together on Easter Monday to eat the mona together.
How to make homemade Mona de Pascua
Ingredients:
500 g flour
1 sachet of dry baker's yeast (12 g) or 25 g of fresh yeast (if you can't find yeast, you can substitute it with 1 tablespoon of bicarbonate of soda and the juice of ½ lemon)
1/4 litre of warm milk
100 g melted butter
80 g sugar
1 egg
1 pinch of salt
To "paint" the dough
1 egg yolk
1 tablespoon of milk
For the decoration
Coloured anisettes, chocolate balls, sultanas, cherries for decoration, sliced almonds...
Boiled eggs painted with food colouring or chocolate eggs.
Steps for making mona de pascua:
Put the flour in a bowl. Add the dry yeast and mix well with a fork. Add the rest of the ingredients: the butter (previously melted in the microwave), the milk, the sugar, the egg and a pinch of salt.
If you do not have yeast: mix the flour, butter, sugar, milk, egg and a pinch of salt. Once the mixture is homogeneous, add the juice of half a lemon and a spoonful of bicarbonate and again stir well to mix everything together.
Knead it and shape the dough into a round shape with your hands, leaving a dough like the one in the image.
Cover the bowl with a cloth and put it in the oven for about 20-30 minutes at a maximum temperature of 50 degrees, leaving the oven door ajar with a wooden spoon, until we see that the dough has risen, that is, that it has visibly increased in volume. It can also be heated in the microwave by covering the bowl with a damp cloth at 80-90 watts for about 8 minutes.
While the dough is rising, cover a baking tray with baking paper. Once the dough has risen, divide it into 4 or 5 parts depending on the number of "monas" you want to make and the size. Here we have to let our imagination run wild to shape the dough into the figures we want: A rabbit, a turtle, a nest, a plait, but you can make as many as you can think of, decorating with coloured balls, painted boiled eggs, slivered almonds, sugar...
Put them in the oven for another 10 minutes at a maximum temperature of 50 degrees, so that the dough continues to rise. Once we have our figures ready, we mix an egg yolk with a spoonful of milk and paint the monkeys with this mixture, so that they brown in the oven. We add any decoration we can think of to finish our figures, for example, we use sultanas for the eyes, a cherry for the nose, coloured balls, chocolate balls and sliced almonds to decorate.
With our figures ready and decorated, we put them in the oven preheated to 200º for about 25-30 minutes, until we see that they are ready and have taken a suitable colour.
Take them out of the oven, leave them to cool, add the painted or chocolate eggs as decoration and our Easter cakes are ready to eat. Aren't they "cute"?
To eat them, we can spread them with butter, jam, a bit of cheese... Accompanied by a hot chocolate, we have a great breakfast or snack for Easter, or for any occasion.
🔆 Other recipes