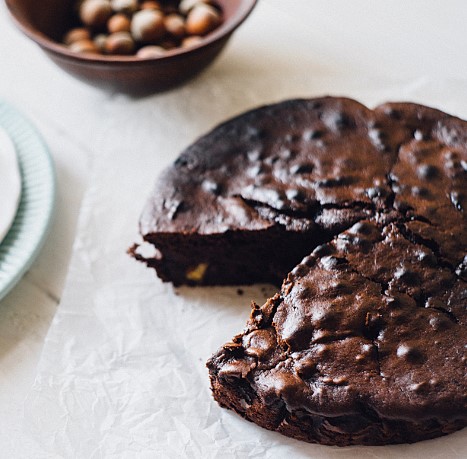 Cooking recipes - How to make No-bake chocolate and hazelnut cake?
Ingredients:
500 g Biscuits to taste
50 g melted butter
50 g bitter cocoa powder
150 g dark or milk chocolate
50 g Sugar (you can also omit the sugar as the biscuits are already very sweet)
150 g Spreadable cheese (ricotta, mascarpone or Philadelphia, whatever you prefer)
Crushed hazelnuts
Bitter cocoa powder (for decoration)
Steps for making No-bake chocolate and hazelnut cake:
Finely chop the biscuits and put them in a bowl.
Add the spreadable cheese, melted butter, melted chocolate and cocoa and blend with an immersion blender until moist and smooth.
Add the chopped hazelnuts and mix.
Transfer the mixture to a cake tin lined with baking paper.
With wet hands, compact the mixture well and shape it into a cake.
Place the cake in the refrigerator for about 1 hour.
Once the resting time has elapsed, the chocolate cake is ready to be served, but it must be taken out at least 20 minutes before it can be enjoyed.
The no-bake chocolate hazelnut cake is divine, serve it with clumps of whipped cream or simply as I did with a pinch of cocoa.
🔆 Other recipes