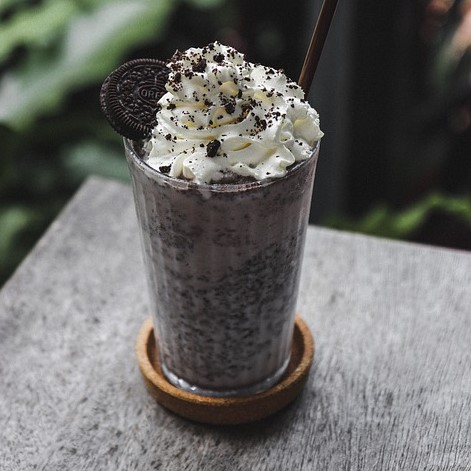 Cooking recipes - How to Oreo Milkshake?
Ingredients:
For the shake
6 Oreo biscuits
1 1/4 cup milk
Vanilla ice cream
For the chocolate syrup
1 cup (250 ml) water
1/2 cup (100 g) sugar
1/2 cup (160 g) corn syrup or agave nectar
3/4 cup (75 g) unsweetened cocoa powder
55 g finely chopped bittersweet or semisweet chocolate
To decorate
Liquid whipping cream or whipped cream
Steps for making Oreo Milkshake:
In a medium saucepan, combine the water, sugar, syrup and cocoa powder.
Bring to the boil over medium heat.
When it starts to boil, remove from the heat and stir in the chopped chocolate until it melts.
Leave the syrup to stand for a couple of hours in the fridge before serving to give it time to thicken.
Spread homemade chocolate syrup on the sides of the glass in which you will pour the milkshake.
Crush the 6 Oreos in a plastic bag with the base of a glass, or use a food processor.
Place the crushed Oreos, milk and 2 scoops of vanilla ice cream (about 3/4 cup) in a blender or mixer.
Blend until well combined and frothy.
Pour the smoothie into prepared glasses.
This Oreo milkshake is delicious as is, but if you add whipped cream it will take you to another dimension, promise! Top it with chocolate syrup and an Oreo biscuit and you have the perfect Oreo shake.
🔆 Other recipes