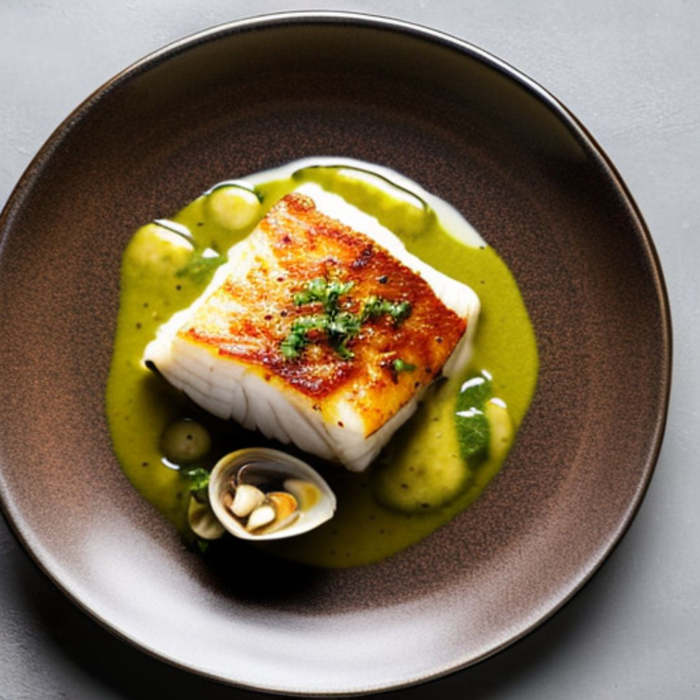 Hake in green sauce, or "merluza en salsa verde" in Spanish, is a classic dish from the Basque Country, a region in northern Spain known for its excellent cuisine. This simple yet flavorful recipe features hake fillets cooked in a fragrant sauce made with parsley, garlic, onion, and white wine.
Hake is a type of fish commonly found in the Atlantic Ocean and the Mediterranean Sea. It has a delicate, flaky white flesh and a mild, slightly sweet flavor that makes it a popular choice for many dishes. In the Basque Country, hake is often cooked in green sauce, a light and herbaceous sauce that pairs perfectly with the fish.
To make hake in green sauce, you will need the following ingredients:
4 hake fillets
2 cups fresh parsley leaves
2 cloves of garlic, minced
1/2 onion, finely chopped
1/2 cup dry white wine
1/2 cup fish or chicken broth
2 tablespoons olive oil
Salt and black pepper to taste
How to make Hake in green sauce or merluza en salsa verde
To prepare the dish, start by heating the olive oil in a large sauté pan over medium heat. Add the minced garlic and chopped onion and sauté until they are soft and translucent, about 5 minutes. Add the parsley and continue cooking for another 2-3 minutes, stirring frequently.
Next, add the white wine and broth to the pan and bring the mixture to a simmer. Season the hake fillets with salt and black pepper and place them in the pan, skin-side down. Cover the pan and let the fish cook for about 8-10 minutes, or until it is opaque and flaky.
Once the hake is cooked, remove it from the pan and set it aside. Use an immersion blender or a regular blender to puree the sauce until it is smooth and creamy. Return the hake fillets to the pan and spoon the sauce over them. Serve immediately, garnished with a sprig of fresh parsley.
Hake in green sauce is a delicious and healthy dish that is perfect for a cozy dinner or a special occasion. It is a staple of Basque cuisine and a great way to enjoy the flavors of this unique region. Give it a try and you won't be disappointed!
🔆 Other recipes