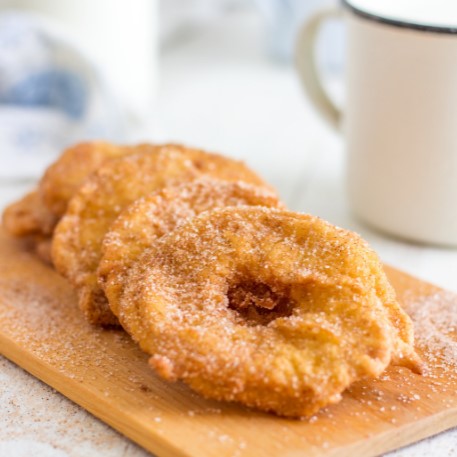 Cooking recipes - How to make Apple fritters without frying?
Apple yoghurt muffins are an easy recipe to make and don't take too long. This makes them perfect for when we are at home and have a sudden sweet tooth!
Ingredients:
200 g flour T 45
50 g sugar
1 lemon
8 g baking powder
125 g milk
3 apples
1 egg
1 sachet of vanilla sugar
Icing sugar
Steps for making Apple fritters without frying:
Peel the apples, cut them into slices about 1 cm thick, remove the core with a plastic bottle cap and sprinkle them with the lemon juice and two tablespoons of sugar.
Prepare the doughnut batter: pour the milk into a bowl, add the egg, vanilla sugar, caster sugar, grated lemon peel and beat with a fork.
Add the flour and baking powder until the mixture is creamy, lump-free and fairly dense.
Dip the apple slices into the doughnut mixture, drain off the excess dough and arrange the doughnuts on a baking tray lined with baking paper.
Bake the apple fritters in a preheated oven at 180° C for about 25 minutes.
They should be golden brown.
Once ready, sprinkle with icing sugar.
🔆 Other recipes