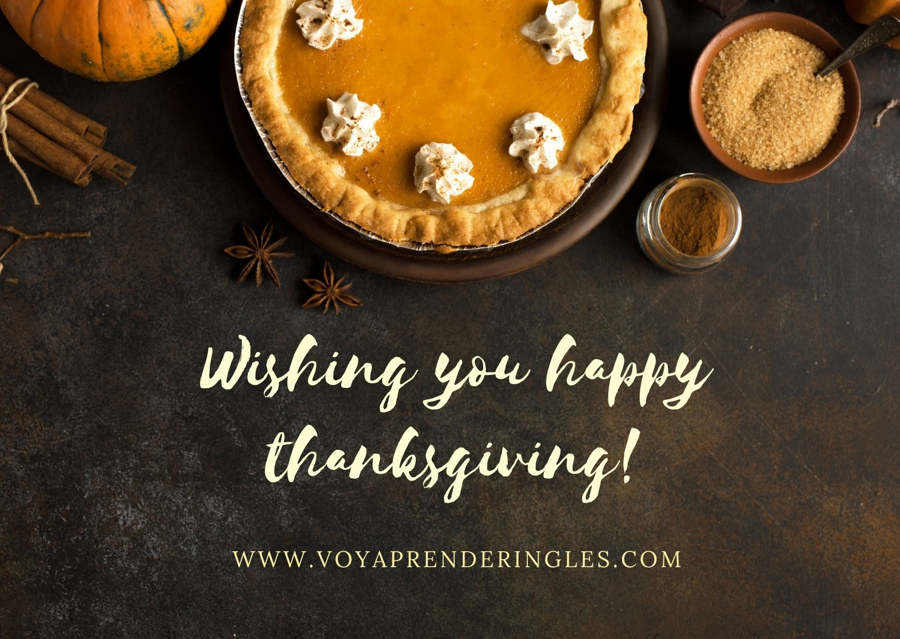 Acción de gracias - Thanksgiving - Celebraciones - Celebrations
Every year, Americans celebrate Thanksgiving on the 4th Thursday of November. Would you like to learn more about this extremely popular holiday on the other side of the Atlantic? Read more!
Why is Thanksgiving celebrated in the USA?
The last Thursday in November Americans gather as a family to share the traditional turkey and pumpkin cake.
Originally, Thanksgiving was a religious holiday, as it was an opportunity to thank God for allowing the land to be worked and therefore to have something to survive on. Today, even if it has lost some of its original meaning, Americans are still very attached to this special day.
The 4-day weekend, Thursday is a holiday and most people take a day off on Friday, is above all an excellent opportunity to get together as a family and share moments together.
Wherever they are, the majority of Americans gather as a family for Thanksgiving, causing huge traffic jams on the roads and delays at airports. It is customary for each guest to literally get their hands dirty by bringing a portion of the meal.
El último jueves de noviembre los americanos se reúnen en familia para compartir el tradicional pavo y pastel de calabaza.
Originalmente, el Día de Acción de Gracias era un día festivo religioso, ya que era una oportunidad para dar gracias a Dios por las cosechas del otoño y por lo tanto tener algo con lo que sobrevivir. Hoy en día, aunque ha perdido algo de su significado original, los americanos todavía están muy apegados a este día especial.
Dondequiera que estén, la mayoría de los estadounidenses se reúnen en familia para el Día de Acción de Gracias, causando enormes atascos en las carreteras y retrasos en los aeropuertos.
🔆 Recursos y materiales gratis en inglés, para Acción de gracias.
Thanksgiving Day: history
The Pilgrim Fathers at the origin of this festival

Legend has it that the first pilgrims from England settled in Plymouth Rock on 11th December 1620. The first winter they spent was so devastating that they lost almost half of their numbers. By early autumn of the following year, 46 of the 102 who had come on the 'Mayflower' had died. But the harvest of 1621 was one of the most successful, so the remaining colonists decided to celebrate. At first, this was more of an English harvest festival than a real Thanksgiving tradition.
The ancestor of "Thanksgiving" will not be repeated the following year. However, in 1623, during a drought, pilgrims gathered together to pray and invoke the rain. When the rain came the next day, Governor Bradford proclaimed a new Thanksgiving day, again inviting the Indians. It wasn't until June 1676 that Thanksgiving appeared on the calendar again.
This year, the council of Charlestown, Massachusetts, met to determine the best time of year to express gratitude for the good fortune that had enabled the first generation of pilgrims to settle. All responded on June 29th as "Thanksgiving" day.
One date is anchored in the memories of Americans: October 1777. It was the first time that the 13 colonies came together to celebrate a "Thanksgiving" on the occasion of their victory over the English in Saratoga.
Thanksgiving in the calendar
Later, a famous character will anchor Thanksgiving a little more in the habits of Americans. George Washington, the first president of the United States, proclaimed a national Thanksgiving day in 1789, although some were opposed to it. Indeed, many believed that the beliefs of the few pilgrims did not deserve a national day.
Thanksgiving Day is credited to magazine publisher Sarah Josepha Hale. She wrote many articles advocating her cause in her magazines, and it was finally in 1863 that President Lincoln proclaimed the last Thursday of November as National Thanksgiving Day.
Finally, it was during President Roosevelt's term in 1941 that Thanksgiving was finally declared a "Legal Holiday" by Congress and was established on the fourth Thursday of November.
🔆 También te puede interesar: