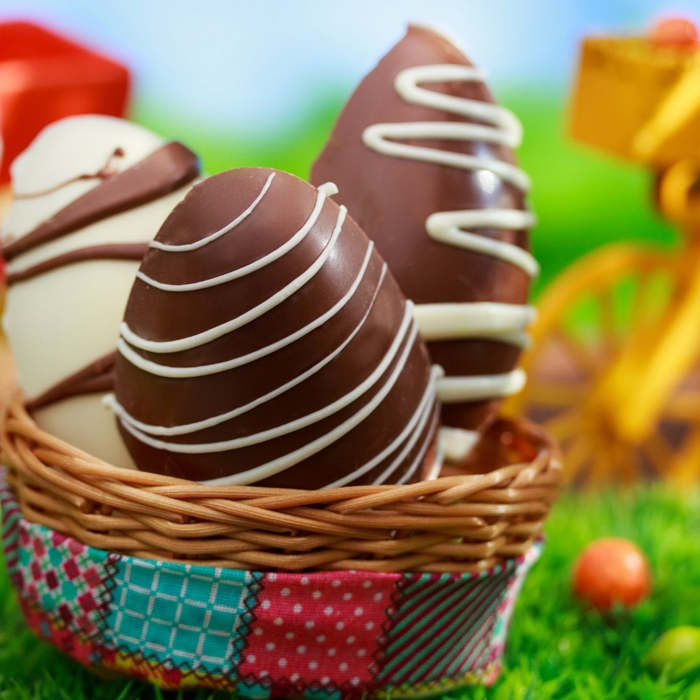 Cooking recipes - How to make chocolate Easter eggs?
Making homemade chocolate eggs is not that complicated! The proof is in the pudding with this
quick and easy recipe.
The main thing is to temper the chocolate well so that it is smooth and shiny. Children will enjoy decorating the eggs as they see fit. Dark chocolate,
white or milk chocolate, you can choose your favourite flavours.
A great way to celebrate Easter
Ingredients for the chocolate Easter eggs:
For 2 large eggs:
500 g chocolate (dark, milk, white)
Steps for making chocolate Easter eggs:
1. Pour the crushed chocolate into a container. Melt in a bain-marie or in the microwave
without exceeding 45-50°C. Mix well so that the chocolate is smooth.
2. Pour the melted chocolate onto a cold plate or marble to cool to 25°C.
When the temperature is reached, return the chocolate to a container and heat to 30- 32°C.
32°C.
3. Using a small ladle, pour some of the chocolate into your mould. Turn the mould over to remove the excess chocolate. Place the mould in the refrigerator for a few hours so that the chocolate
the chocolate to harden.
4. After the resting time, carefully remove the egg shells from the mould. To weld them together, place one of the one of the shells over a pan of hot water. When the chocolate is slightly melted, weld the shells together.
When the chocolate is slightly melted, weld the shells together. Leave to dry for a few hours at room temperature.
Tip: Children can decorate these chocolate eggs in many different ways. You can for example, melt some of the chocolate and place it in a paper cone or a baking pen.
All they have to do is draw on the shells: arabesques, dots, flowers...
🔆 Other recipes