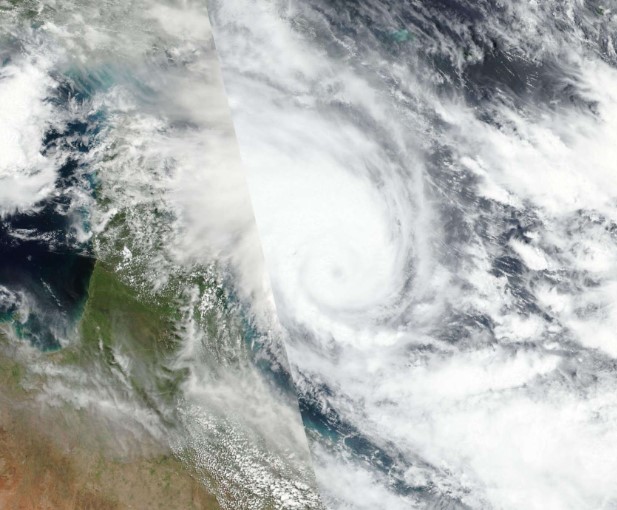 Cyclone Niran could reach its peak intensity with gusts of around 270 km/h near its centre.
A level 2 cyclone warning, the highest level, will be triggered throughout New Caledonia on Saturday morning, due to the passage of cyclone Niran, announced the civil security. On Friday, the phenomenon generated winds of 170 km/h near its centre and gusts to 240 km/h.
The cyclone was located about 750 kilometres in the West-North-West of the Belep archipelago, in the extreme north of New Caledonia, where a tsunami warning was triggered on Friday morning after an 8.1 magnitude earthquake near the Kermadec Islands, without the feared wave finally breaking.
"Niran speeds up its course and shifts to the East South-East. Over the next 24 hours, this tropical cyclone could reach its peak of intensity with gusts of around 270 km/h near its centre", indicated Météo-France NC.
The populations of the coastal areas invited to evacuate
Hurricane warning number 2, which recommends remaining confined to the interior of dwellings, will be triggered Saturday morning at 6 a.m. (8 p.m. in Spain on Friday) in 25 communes of Grande Terre and the Loyalty Islands, then it will be extended two hours later to the entire archipelago.
The centre of the cyclone is expected to pass a few dozen kilometres north-west of Grande Terre, then skim the south-western coast. However, the meteorological services do not rule out the possibility that it may also cross the archipelago.
Given the heavy rains and violent winds that are expected, several communes, including Noumea where 10,000 people are living in precarious conditions, have opened shelters. People living in coastal areas have also been asked to evacuate, due to the risk of marine submersion. The domestic airline Aircal has also sheltered its four aircraft in Brisbane, Australia.