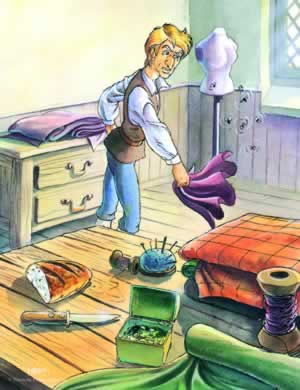 Recursos Educativos en Inglés - Stories in English
Cuentos en Inglés
The Brave Little Tailor - El Sastrecillo Valiente
One summer's morning a little tailor was sitting on his table by the window, he was in good spirits, and sewed with all his might. Then came a peasant woman down the street crying, "Good jams, cheap. Good jams, cheap."
This rang pleasantly in the tailor's ears, he stretched his delicate head out of the window, and called, "Come up here, dear woman, here you will get rid of your goods."
The woman came up the three steps to the tailor with her heavy basket, and he made her unpack all the pots for him. He inspected each one, lifted it up, put his nose to it, and at length said, "The jam seems to me to be good, so weigh me out four ounces, dear woman, and if it is a quarter of a pound that is of no consequence."