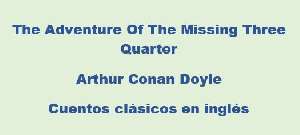 Recursos Educativos en Inglés - Stories in English
Cuentos clásicos en inglés
The Adventure Of The Missing Three Quarter - Arthur Conan Doyle
We were fairly accustomed to receive weird telegrams at Baker Street, but I have a particular recollection of one which reached us on a gloomy February morning, some seven or eight years ago, and gave Mr. Sherlock Holmes a puzzled quarter of an hour. It was addressed to him, and ran thus:
Please await me. Terrible misfortune. Right wing three-quarter missing, indispensable to-morrow. OVERTON.
"Strand postmark, and dispatched ten thirty-six," said Holmes, reading it over and over. "Mr. Overton was evidently considerably excited when he sent it, and somewhat incoherent in consequence. Well, well, he will be here, I daresay, by the time I have looked through the TIMES, and then we shall know all about it. Even the most insignificant problem would be welcome in these stagnant days."
Leer más: The Adventure Of The Missing Three Quarter - Arthur Conan