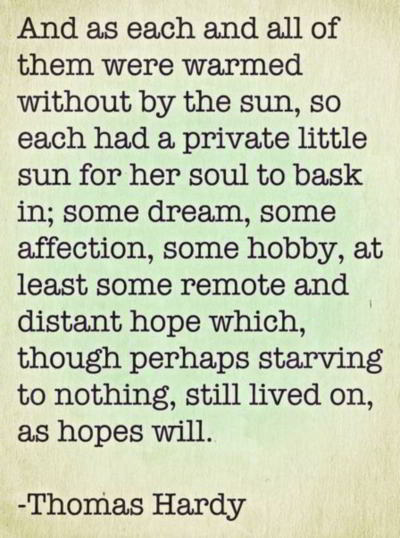 Recursos Educativos en Inglés - Poems in English - Poesías en inglés
At Lulworth Cove a Century Back - Thomas Hardy
Had I but lived a hundred years ago
I might have gone, as I have gone this year,
By Warmwell Cross on to a Cove I know,
And Time have placed his finger on me there:
"You see that man?" — I might have looked, and said,
"O yes: I see him. One that boat has brought
Which dropped down Channel round Saint Alban's Head.
So commonplace a youth calls not my thought."
"You see that man?" — "Why yes; I told you; yes:
Of an idling town-sort; thin; hair brown in hue;
And as the evening light scants less and less
He looks up at a star, as many do."
"You see that man?" — "Nay, leave me!" then I plead,
"I have fifteen miles to vamp across the lea,
And it grows dark, and I am weary-kneed:
I have said the third time; yes, that man I see!"
"Good. That man goes to Rome — to death, despair;
And no one notes him now but you and I:
A hundred years, and the world will follow him there,
And bend with reverence where his ashes lie."
A Broken Appointment - Thomas Hardy
You did not come,
And marching Time drew on, and wore me numb,—
Yet less for loss of your dear presence there
Than that I thus found lacking in your make
That high compassion which can overbear
Reluctance for pure lovingkindness' sake
Grieved I, when, as the hope-hour stroked its sum,
You did not come.
You love not me,
And love alone can lend you loyalty;
–I know and knew it. But, unto the store
Of human deeds divine in all but name,
Was it not worth a little hour or more
To add yet this: Once you, a woman, came
To soothe a time-torn man; even though it be
You love not me?
According to the Mighty Working - Thomas Hardy
I
When moiling seems at cease
In the vague void of night-time,
And heaven's wide roomage stormless
Between the dusk and light-time,
And fear at last is formless,
We call the allurement Peace.
II
Peace, this hid riot, Change,
This revel of quick-cued mumming,
This never truly being,
This evermore becoming,
This spinner's wheel onfleeing
Outside perception's range.
A New Year's Eve in War Time - Thomas Hardy
I
Phantasmal fears,
And the flap of the flame,
And the throb of the clock,
And a loosened slate,
And the blind night's drone,
Which tiredly the spectral pines intone!
II
And the blood in my ears
Strumming always the same,
And the gable-cock
With its fitful grate,
And myself, alone.
III
The twelfth hour nears
Hand-hid, as in shame;
I undo the lock,
And listen, and wait
For the Young Unknown.
IV
In the dark there careers —
As if Death astride came
To numb all with his knock —
A horse at mad rate
Over rut and stone.
V
No figure appears,
No call of my name,
No sound but 'Tic-toc'
Without check. Past the gate
It clatters — is gone.
VI
What rider it bears
There is none to proclaim;
And the Old Year has struck,
And, scarce animate,
The New makes moan.
VII
Maybe that 'More Tears! —
More Famine and Flame —
More Severance and Shock!'
Is the order from Fate
That the Rider speeds on
To pale Europe; and tiredly the pines intone.
Before Marching and After - Thomas Hardy
Orion swung southward aslant
Where the starved Egdon pine-trees had thinned,
The Pleiads aloft seemed to pant
With the heather that twitched in the wind;
But he looked on indifferent to sights such as these,
Unswayed by love, friendship, home joy or home sorrow,
And wondered to what he would march on the morrow.
The crazed household-clock with its whirr
Rang midnight within as he stood,
He heard the low sighing of her
Who had striven from his birth for his good;
But he still only asked the spring starlight, the breeze,
What great thing or small thing his history would borrow
From that Game with Death he would play on the morrow.
When the heath wore the robe of late summer,
And the fuchsia-bells, hot in the sun,
Hung red by the door, a quick comer
Brought tidings that marching was done
For him who had joined in that game overseas
Where Death stood to win, though his name was to borrow
A brightness therefrom not to fade on the morrow.
Channel Firing - Thomas Hardy
That night your great guns, unawares,
Shook all our coffins as we lay,
And broke the chancel window-squares,
We thought it was the Judgment-day
And sat upright. While drearisome
Arose the howl of wakened hounds:
The mouse let fall the altar-crumb,
The worms drew back into the mounds,
The glebe cow drooled. Till God called, "No;
It's gunnery practice out at sea
Just as before you went below;
The world is as it used to be:
"All nations striving strong to make
Red war yet redder. Mad as hatters
They do no more for Christés sake
Than you who are helpless in such matters.
"That this is not the judgment-hour
For some of them's a blessed thing,
For if it were they'd have to scour
Hell's floor for so much threatening....
"Ha, ha. It will be warmer when
I blow the trumpet (if indeed
I ever do; for you are men,
And rest eternal sorely need)."
So down we lay again. "I wonder,
Will the world ever saner be,"
Said one, "than when He sent us under
In our indifferent century!"
And many a skeleton shook his head.
"Instead of preaching forty year,"
My neighbour Parson Thirdly said,
"I wish I had stuck to pipes and beer."
Again the guns disturbed the hour,
Roaring their readiness to avenge,
As far inland as Stourton Tower,
And Camelot, and starlit Stonehenge.
Fragment - Thomas Hardy
At last I entered a long dark gallery,
Catacomb-lined; and ranged at the side
Were the bodies of men from far and wide
Who, motion past, were nevertheless not dead.
"The sense of waiting here strikes strong;
Everyone's waiting, waiting, it seems to me;
What are you waiting for so long? —
What is to happen?" I said.
"O we are waiting for one called God," said they,
"(Though by some the Will, or Force, or Laws;
And, vaguely, by some, the Ultimate Cause;)
Waiting for him to see us before we are clay.
Yes; waiting, waiting, for God to know it." ...
"To know what?" questioned I.
"To know how things have been going on earth and below it:
It is clear he must know some day."
I thereon asked them why.
"Since he made us humble pioneers
Of himself in consciousness of Life's tears,
It needs no mighty prophecy
To tell that what he could mindlessly show
His creatures, he himself will know.
"By some still close-cowled mystery
We have reached feeling faster than he,
But he will overtake us anon,
If the world goes on."
Hap - Thomas Hardy
If but some vengeful god would call to me
From up the sky, and laugh: "Thou suffering thing,
Know that thy sorrow is my ecstasy,
That thy love's loss is my hate's profiting!"
Then would I bear it, clench myself, and die,
Steeled by the sense of ire unmerited;
Half-eased in that a Powerfuller than I
Had willed and meted me the tears I shed.
But not so. How arrives it joy lies slain,
And why unblooms the best hope ever sown?
—Crass Casualty obstructs the sun and rain,
And dicing Time for gladness casts a moan. . . .
These purblind Doomsters had as readily strown
Blisses about my pilgrimage as pain.
In Tenebris - Thomas Hardy
Wintertime nighs;
But my bereavement-pain
It cannot bring again:
Twice no one dies.
Flower-petals flee;
But, since it once hath been,
No more that severing scene
Can harrow me.
Birds faint in dread:
I shall not lose old strength
In the lone frost's black length:
Strength long since fled!
Leaves freeze to dun;
But friends can not turn cold
This season as of old
For him with none.
Tempests may scath;
But love can not make smart
Again this year his heart
Who no heart hath.
Black is night's cope;
But death will not appal
One who, past doubtings all,
Waits in unhope.
No Buyers
A Load of brushes and baskets and cradles and chairs
Labours along the street in the rain:
With it a man, a woman, a pony with whiteybrown hairs. —
The man foots in front of the horse with a shambling sway
At a slower tread than a funeral train,
While to a dirge-like tune he chants his wares,
Swinging a Turk's-head brush (in a drum-major's way
When the bandsmen march and play).
A yard from the back of the man is the whiteybrown pony's nose:
He mirrors his master in every item of pace and pose:
He stops when the man stops, without being told,
And seems to be eased by a pause; too plainly he's old,
Indeed, not strength enough shows
To steer the disjointed waggon straight,
Which wriggles left and right in a rambling line,
Deflected thus by its own warp and weight,
And pushing the pony with it in each incline.
The woman walks on the pavement verge,
Parallel to the man:
She wears an apron white and wide in span,
And carries a like Turk's-head, but more in nursing-wise:
Now and then she joins in his dirge,
But as if her thoughts were on distant things,
The rain clams her apron till it clings. —
So, step by step, they move with their merchandize,
And nobody buys.
Rain on a Grave
Clouds spout upon her
Their waters amain
In ruthless disdain, –
Her who but lately
Had shivered with pain
As at touch of dishonour
If there had lit on her
So coldly, so straightly
Such arrows of rain:
One who to shelter
Her delicate head
Would quicken and quicken
Each tentative tread
If drops chanced to pelt her
That summertime spills
In dust-paven rills
When thunder-clouds thicken
And birds close their bills.
Would that I lay there
And she were housed here!
Or better, together
Were folded away there
Exposed to one weather
We both, – who would stray there
When sunny the day there,
Or evening was clear
At the prime of the year.
Soon will be growing
Green blades from her mound,
And daisies be showing
Like stars on the ground,
Till she form part of them –
Ay – the sweet heart of them,
Loved beyond measure
With a child's pleasure
All her life's round.
The Dead Man Walking
They hail me as one living,
But don't they know
That I have died of late years,
Untombed although?
I am but a shape that stands here,
A pulseless mould,
A pale past picture, screening
Ashes gone cold.
Not at a minute's warning,
Not in a loud hour,
For me ceased Time's enchantments
In hall and bower.
There was no tragic transit,
No catch of breath,
When silent seasons inched me
On to this death ....
— A Troubadour-youth I rambled
With Life for lyre,
The beats of being raging
In me like fire.
But when I practised eyeing
The goal of men,
It iced me, and I perished
A little then.
When passed my friend, my kinsfolk,
Through the Last Door,
And left me standing bleakly,
I died yet more;
And when my Love's heart kindled
In hate of me,
Wherefore I knew not, died I
One more degree.
And if when I died fully
I cannot say,
And changed into the corpse-thing
I am to-day,
Yet is it that, though whiling
The time somehow
In walking, talking, smiling,
I live not now.
The Haunter
He does not think that I haunt here nightly:
How shall I let him know
That whither his fancy sets him wandering
I, too, alertly go? -
Hover and hover a few feet from him
Just as I used to do,
But cannot answer the words he lifts me –
Only listen thereto!
When I could answer he did not say them:
When I could let him know
How I would like to join in his journeys
Seldom he wished to go.
Now that he goes and wants me with him
More than he used to do,
Never he sees my faithful phantom
Though he speaks thereto.
Yes, I companion him to places
Only dreamers know,
Where the shy hares print long paces,
Where the night rooks go;
Into old aisles where the past is all to him,
Close as his shade can do,
Always lacking the power to call to him,
Near as I reach thereto!
What a good haunter I am, O tell him,
Quickly make him know
If he but sigh since my loss befell him
Straight to his side I go.
Tell him a faithful one is doing
All that love can do
Still that his path may be worth pursuing,
And to bring peace thereto.
The Voice
Woman much missed, how you call to me, call to me,
Saying that now you are not as you were
When you had changed from the one who was all to me,
But as at first, when our day was fair.
Can it be you that I hear? Let me view you, then,
Standing as when I drew near to the town
Where you would wait for me: yes, as I knew you then,
Even to the original air-blue gown!
Or is it only the breeze, in its listlessness
Travelling across the wet mead to me here,
You being ever dissolved to wan wistlessness,
Heard no more again far or near?
Thus I; faltering forward,
Leaves around me falling,
Wind oozing thin through the thorn from norward,
And the woman calling.
🔆 Read more Poems