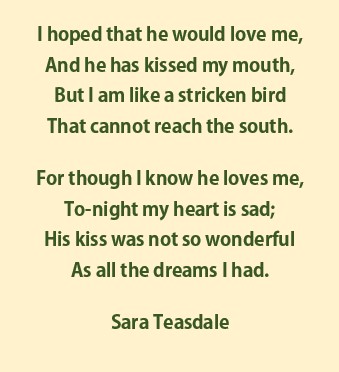 Recursos Educativos en Inglés - Poems in English - Poesías en inglés
May - Sara Teasdale
The wind is tossing the lilacs,
The new leaves laugh in the sun,
And the petals fall on the orchard wall,
But for me the spring is done.
Beneath the apple blossoms
I go a wintry way,
For love that smiled in April
Is false to me in May.
The Kiss - Sara Teasdale
I hoped that he would love me,
And he has kissed my mouth,
But I am like a stricken bird
That cannot reach the south.
For though I know he loves me,
To-night my heart is sad;
His kiss was not so wonderful
As all the dreams I had.
Barter - Sara Teasdale
Life has loveliness to sell,
All beautiful and splendid things,
Blue waves whitened on a cliff,
Soaring fire that sways and sings,
And children's faces looking up
Holding wonder like a cup.
Life has loveliness to sell,
Music like a curve of gold,
Scent of pine trees in the rain,
Eyes that love you, arms that hold,
And for your spirit's still delight,
Holy thoughts that star the night.
Spend all you have for loveliness,
Buy it and never count the cost;
For one white singing hour of peace
Count many a year of strife well lost,
And for a breath of ecstasy
Give all you have been, or could be.
I Am Not Yours - Sara Teasdale
I am not yours, not lost in you,
Not lost, although I long to be
Lost as a candle lit at noon,
Lost as a snowflake in the sea.
You love me, and I find you still
A spirit beautiful and bright,
Yet I am I, who long to be
Lost as a light is lost in light.
Oh plunge me deep in love - put out
My senses, leave me deaf and blind,
Swept by the tempest of your love,
A taper in a rushing wind.
🔆 Read more Poems