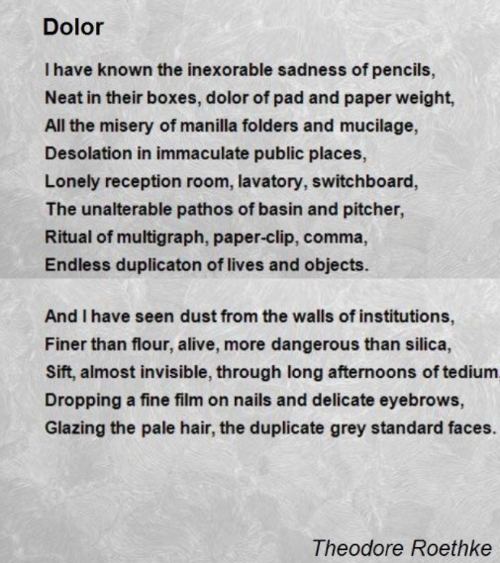 Recursos Educativos en Inglés - Poems in English - Poesías en inglés
My Papa's Waltz - Theodore Roethke
The whiskey on your breath
Could make a small boy dizzy;
But I hung on like death:
Such waltzing was not easy.
We romped until the pans
Slid from the kitchen shelf;
My mother's countenance
Could not unfrown itself.
The hand that held my wrist
Was battered on one knuckle;
At every step you missed
My right ear scraped a buckle.
You beat time on my head
With a palm caked hard by dirt,
Then waltzed me off to bed
Still clinging to your shirt.
I Knew a Woman
I knew a woman, lovely in her bones,
When small birds sighed, she would sigh back at them;
Ah, when she moved, she moved more ways than one:
The shapes a bright container can contain!
Of her choice virtues only gods should speak,
Or English poets who grew up on Greek
(I'd have them sing in chorus, cheek to cheek).
How well her wishes went! She stroked my chin,
She taught me Turn, and Counter-turn, and Stand;
She taught me Touch, that undulant white skin;
I nibbled meekly from her proffered hand;
She was the sickle; I, poor I, the rake,
Coming behind her for her pretty sake
(But what prodigious mowing we did make).
Love likes a gander, and adores a goose:
Her full lips pursed, the errant note to seize;
She played it quick, she played it light and loose;
My eyes, they dazzled at her flowing knees;
Her several parts could keep a pure repose,
Or one hip quiver with a mobile nose
(She moved in circles, and those circles moved).
Let seed be grass, and grass turn into hay:
I'm martyr to a motion not my own;
What's freedom for? To know eternity.
I swear she cast a shadow white as stone.
But who would count eternity in days?
These old bones live to learn her wanton ways:
(I measure time by how a body sways).
In a Dark Time - Theodore Roethke
In a dark time, the eye begins to see,
I meet my shadow in the deepening shade;
I hear my echo in the echoing wood—
A lord of nature weeping to a tree.
I live between the heron and the wren,
Beasts of the hill and serpents of the den.
What's madness but nobility of soul
At odds with circumstance? The day's on fire!
I know the purity of pure despair,
My shadow pinned against a sweating wall.
That place among the rocks—is it a cave,
Or winding path? The edge is what I have.
A steady storm of correspondences!
A night flowing with birds, a ragged moon,
And in broad day the midnight come again!
A man goes far to find out what he is—
Death of the self in a long, tearless night,
All natural shapes blazing unnatural light.
Dark, dark my light, and darker my desire.
My soul, like some heat-maddened summer fly,
Keeps buzzing at the sill. Which I is I?
A fallen man, I climb out of my fear.
The mind enters itself, and God the mind,
And one is One, free in the tearing wind.
The Waking
I wake to sleep, and take my waking slow.
I feel my fate in what I cannot fear.
I learn by going where I have to go.
We think by feeling. What is there to know?
I hear my being dance from ear to ear.
I wake to sleep, and take my waking slow.
Of those so close beside me, which are you?
God bless the Ground! I shall walk softly there,
And learn by going where I have to go.
Light takes the Tree; but who can tell us how?
The lowly worm climbs up a winding stair;
I wake to sleep, and take my waking slow.
Great Nature has another thing to do
To you and me; so take the lively air,
And, lovely, learn by going where to go.
This shaking keeps me steady. I should know.
What falls away is always. And is near.
I wake to sleep, and take my waking slow.
I learn by going where I have to go.
The bat
By day the bat is cousin to the mouse.
He likes the attic of an aging house.
His fingers make a hat about his head.
His pulse beat is so slow we think him dead.
He loops in crazy figures half the night
Among the trees that face the corner light.
But when he brushes up against a screen,
We are afraid of what our eyes have seen:
For something is amiss or out of place
When mice with wings can wear a human face.
Big wind - Theodore Roethke
Where were the greenhouses going,
Lunging into the lashing
Wind driving water
So far down the river
All the faucets stopped?
So we drained the manure-machine
For the steam plant,
Pumping the stale mixture
Into the rusty boilers,
Watching the pressure gauge
Waver over to red,
As the seams hissed
And the live steam
Drove to the far
End of the rose-house,
Where the worst wind was,
Creaking the cypress window-frames,
Cracking so much thin glass
We stayed all night,
Stuffing the holes with burlap;
But she rode it out,
That old rose-house,
She hove into the teeth of it,
The core and pith of that ugly storm,
Ploughing with her stiff prow,
Bucking into the wind-waves
That broke over the whole of her,
Flailing her sides with spray,
Flinging long strings of wet across the roof-top,
Finally veering, wearing themselves out, merely
Whistling thinly under the wind-vents;
She sailed until the calm morning,
Carrying her full cargo of roses.
🔆 Read more Poems