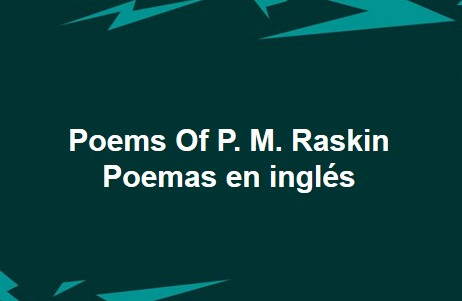 Recursos Educativos en Inglés - Poems in English - Poesías en inglés
The Feast Of Freedom - P. M. Raskin
I remember in my childhood
From my grandfather I heard
Charming tales of gone-by ages
That my soul so deeply stirred.
Charming tales of ancient sages
That I felt I knew were true;
Stories of the hoary ages
That remain forever new.
Of the Pesach-days he told me,
Days that joy and sunshine bring;
Of the Festival of Freedom,
Of Revival and of Spring.
Of the slave-people in Egypt,
Whose hot blood so rashly spilled,
Soaked into cold bricks and mortar
Of the fortresses they built.
How on them, the God-forsaken,
After gloomy wintry days,
Shone at last the rays of freedom,
Heaven's bright and cheerful rays.
How among them rose a leader,
Star-like in a gloomy night,
And he pleaded for their freedom,
And he crushed a tyrant's might.
How he taught the fettered people
Not in vain their blood to spill,
Turning bondmen into freemen,
Men of honor and of will.
How the people's march to Freedom
Could no despot's might restrain,
Till before their will resistless
Stormy ocean oped in twain.
"Then it was our people's springtime,
After which a summer came,
Followed by a golden harvest,
Free from yoke and free from shame."
"Grand-sire, dear," I asked enraptured,
"How long did that summer last?"
But he sadly gazed and pondered,
And he answered me at last.
"Child, it was a long, bright summer,
But a winter came again,
Came with cold and snow and showers,
With its gales of grief and pain.
"Frost and tempest-strife, contention--
Raged once more in every part,
Stealing into souls and freezing
Will and hope in every heart.
"Furious storm once more dispersed us;
Israel rendered free and great,
Into lands of cruel despots
Went to face a bondman's fate."
"Grand-sire, dear, why does this winter
Seem so endless, then?"--I sighed--
And two crystal tears were trembling
In his eyes when he replied.
"Yes, my boy, it seems so endless,
But it cannot, will not be;
Israel will not slave forever,
One day, child, he will be free.
In his soul will re-awaken
Courage, will, and pride, and might;
Freedom's sunrise must needs follow
Israel's starless exile night.
"But till then, ere spring's arrival--
For the winter's steps are slow--
Pesach is a sweet remembrance
Of a spring of long ago."
Chanukah Lights - P. M. Raskin
I Kindled my eight little candles,
My Chanukah-candles--and lo!
Fair visions and dreams half-forgotten
To me came of years long ago.
I musingly gazed at my candles;
Meseemed in their quivering flames
In golden, in fiery letters
I read the old glorious names,
The names of our heroes immortal,
The noble, the brave, and the true,
A battle-field saw I in vision
Where many were conquered by few.
Where trampled in dust lay the mighty,
Judea's proud Syrian foe;
And Judas, the brave Maccabaeus,
In front of his army I saw.
His eyes shone like bright stars of heaven,
Like music rang out his strong voice:
"Brave comrades, we fought and we conquered,
Now let us, in God's name, rejoice!"
"We conquered--but know, O brave comrades,
No triumph is due to the sword!
Remember our glorious watchword,
'For People and Towns of the Lord!'"
He spoke, and from all the four corners
An echo repeated each word;
The woods and the mountains re-echoed:
"For People and Towns of the Lord!"
And swiftly the message spread, saying:
"Judea, Judea is free,
Re-kindled the lamp in the Temple,
Re-kindled each bosom with glee!"
My Chanukah-candles soon flickered,
Around me was darkness of night;
But deep in my soul I felt shining
A heavenly-glorious light.
The Eternal Riddle - P. M. Raskin
Israel, my people,
God's greatest riddle,
Will thy solution
Ever be told
Fought - never conquered,
Bent - never broken,
Mortal - immortal,
Youthful, though old.
Egypt enslaved thee,
Babylon crushed thee,
Rome led thee captive,
Homeless thy head.
Where are those nations
Mighty and fearsome
Thou hast survived them,
They are long dead.
Nations keep coming,
Nations keep going,
Passing like shadows,
Wiped off the earth.
Thou an eternal
Witness remainest,
Watching their burial,
Watching their birth.
Pray, who revealed thee
Heaven's great secret :
Death and destruction,
Thus to defy
Suffering torture,
Stake, inquisition -
Prithee, who taught thee
Never to die
Ay, and who gave thee
Faith, deep as ocean,
Strong as the rock-hills,
Fierce as the sun
Hated and hunted,
Ever thou wand'rest,
Bearing a message :
God is but one!
Pray, has thy saga
Likewise an ending,
As its beginning
Glorious of old
Israel, my people,
God's greatest riddle,
Will thy solution
Ever be told
🔆 Read more Poems