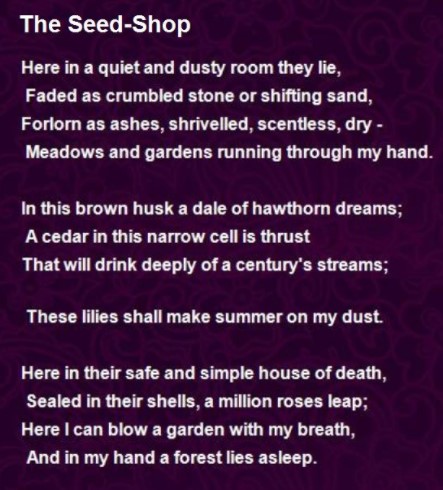 Recursos Educativos en Inglés - Poems in English - Poesías en inglés
The Seed-Shop - Muriel Stuart
Here in a quiet and dusty room they lie,
Faded as crumbled stone and shifting sand,
Forlorn as ashes, shrivelled, scentless, dry -
Meadows and gardens running through my hand.
Dead that shall quicken at the voice of spring,
Sleepers to wake beneath June's tempest kiss;
Though birds pass over, unremembering,
And no bee find here roses that were his.
In this brown husk a dale of hawthorn dreams;
A cedar in this narrow cell is thrust
That shall drink deeply at a century's streams;
These lilies shall make summer on my dust.
Here in their safe and simple house of death,
Sealed in their shells, a million roses leap;
Here I can stir a garden with my breath,
And in my hand a forest lies asleep.
In The Orchard - Muriel Stuart
"I thought you loved me." "No, it was only fun."
"When we stood there, closer than all?" "Well, the harvest moon
"Was shining and queer in your hair, and it turned my head."
"That made you?" "Yes." "Just the moon and the light it made
"Under the tree?" "Well, your mouth, too." "Yes, my mouth?"
"And the quiet there that sang like the drum in the booth.
"You shouldn't have danced like that." "Like what?" "So close,
"With your head turned up, and the flower in your hair, a rose
"That smelt all warm." "I loved you. I thought you knew
"I wouldn't have danced like that with any but you."
"I didn't know. I thought you knew it was fun."
"I thought it was love you meant." "Well, it's done." "Yes, it's done.
"I've seen boys stone a blackbird, and watched them drown
"A kitten ... it clawed at the reeds, and they pushed it down
"Into the pool while it screamed. Is that fun, too?"
"Well, boys are like that ... Your brothers..." "Yes, I know.
"But you, so lovely and strong! Not you! Not you!"
"They don't understand it's cruel. It's only a game."
"And are girls fun, too?" "No, still in a way it's the same.
"It's queer and lovely to have a girl..." "Go on."
"It makes you mad for a bit to feel she's your own,
"And you laugh and kiss her, and maybe you give her a ring,
"But it's only in fun." "But I gave you everything."
"Well, you shouldn't have done it. You know what a fellow thinks
"When a girl does that." "Yes, he talks of her over his drinks
"And calls her a—" "Stop that now. I thought you knew."
"But it wasn't with anyone else. It was only you."
"How did I know? I thought you wanted it too.
"I thought you were like the rest. Well, what's to be done?"
"To be done?" "Is it all right?" "Yes." "Sure?" "Yes, but why?"
"I don't know. I thought you were going to cry.
"You said you had something to tell me." "Yes, I know.
"It wasn't anything really ... I think I'll go."
"Yes, it's late. There's thunder about, a drop of rain
"Fell on my hand in the dark. I'll see you again
"At the dance next week. You're sure that everything's right?"
"Yes." "Well, I'll be going." "Kiss me..." "Good night." ...
"Good night."
🔆 Read more Poems