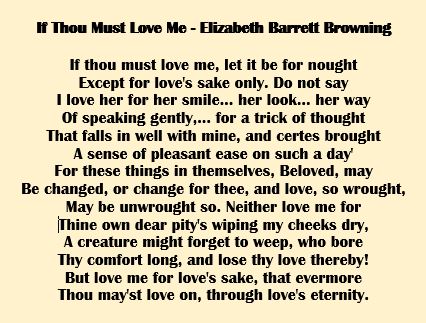 Recursos Educativos en Inglés - Poems in English - Poesías en inglés
The Holy Night - Elizabeth Barrett Browning
We sate among the stalls at Bethlehem;
The dumb kine from their fodder turning them,
Softened their horned faces
To almost human gazes
Toward the newly Born:
The simple shepherds from the star-lit brooks
Brought their visionary looks,
As yet in their astonied hearing rung
The strange sweet angel-tongue:
The magi of the East, in sandals worn,
Knelt reverent, sweeping round,
With long pale beards, their gifts upon the ground,
The incense, myrrh, and gold
These baby hands were impotent to hold:
So let all earthlies and celestials wait
Upon thy royal state.
Sleep, sleep, my kingly One!
If Thou Must Love Me - Elizabeth Barrett Browning
If thou must love me, let it be for nought
Except for love's sake only. Do not say
I love her for her smile... her look... her way
Of speaking gently,... for a trick of thought
That falls in well with mine, and certes brought
A sense of pleasant ease on such a day'
For these things in themselves, Beloved, may
Be changed, or change for thee, and love, so wrought,
May be unwrought so. Neither love me for
Thine own dear pity's wiping my cheeks dry,
A creature might forget to weep, who bore
Thy comfort long, and lose thy love thereby!
But love me for love's sake, that evermore
Thou may'st love on, through love's eternity.
How Do I Love Thee? - Elizabeth Barrett Browning
How do I love thee? Let me count the ways.
I love thee to the depth and breadth and height
My soul can reach, when feeling out of sight
For the ends of being and ideal grace.
I love thee to the level of every day's
Most quiet need, by sun and candlelight.
I love thee freely, as men strive for right;
I love thee purely, as they turn from Praise.
I love with a passion put to use
In my old griefs, and with my childhood's faith.
I love thee with a love I seemed to lose
With my lost saints, I love thee with the breath,
Smiles, tears, of all my life! and, if God choose,
I shall but love thee better after death.
🔆 Read more Poems