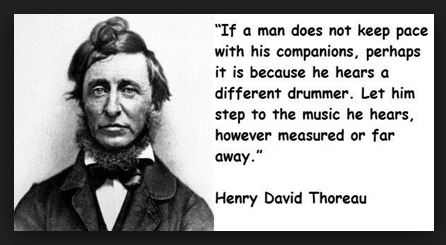 Recursos Educativos en Inglés - Poems in English - Poesías en inglés
Though All The Fates - Henry David Thoreau
Though all the fates should prove unkind,
Leave not your native land behind.
The ship, becalmed, at length stands still;
The steed must rest beneath the hill;
But swiftly still our fortunes pace
To find us out in every place.
The vessel, though her masts be firm,
Beneath her copper bears a worm;
Around the cape, across the line,
Till fields of ice her course confine;
It matters not how smooth the breeze,
How shallow or how deep the seas,
Whether she bears Manilla twine,
Or in her hold Madeira wine,
Or China teas, or Spanish hides,
In port or quarantine she rides;
Far from New England's blustering shore,
New England's worm her hulk shall bore,
And sink her in the Indian seas,
Twine, wine, and hides, and China teas.
Pray To What Earth - Henry David Thoreau
Pray to what earth does this sweet cold belong,
Which asks no duties and no conscience?
The moon goes up by leaps, her cheerful path
In some far summer stratum of the sky,
While stars with their cold shine bedot her way.
The fields gleam mildly back upon the sky,
And far and near upon the leafless shrubs
The snow dust still emits a silver light.
Under the hedge, where drift banks are their screen,
The titmice now pursue their downy dreams,
As often in the sweltering summer nights
The bee doth drop asleep in the flower cup,
When evening overtakes him with his load.
By the brooksides, in the still, genial night,
The more adventurous wanderer may hear
The crystals shoot and form, and winter slow
Increase his rule by gentlest summer means
I Knew A Man By Sight - Henry David Thoreau
I knew a man by sight,
A blameless wight,
Who, for a year or more,
Had daily passed my door,
Yet converse none had had with him.
I met him in a lane,
Him and his cane,
About three miles from home,
Where I had chanced to roam,
And volumes stared at him, and he at me.
In a more distant place
I glimpsed his face,
And bowed instinctively;
Starting he bowed to me,
Bowed simultaneously, and passed along.
Next, in a foreign land
I grasped his hand,
And had a social chat,
About this thing and that,
As I had known him well a thousand years.
Late in a wilderness
I shared his mess,
For he had hardships seen,
And I a wanderer been;
He was my bosom friend, and I was his.
And as, methinks, shall all,
Both great and small,
That ever lived on earth,
Early or late their birth,
Stranger and foe, one day each other know.
🔆 Read more Poems