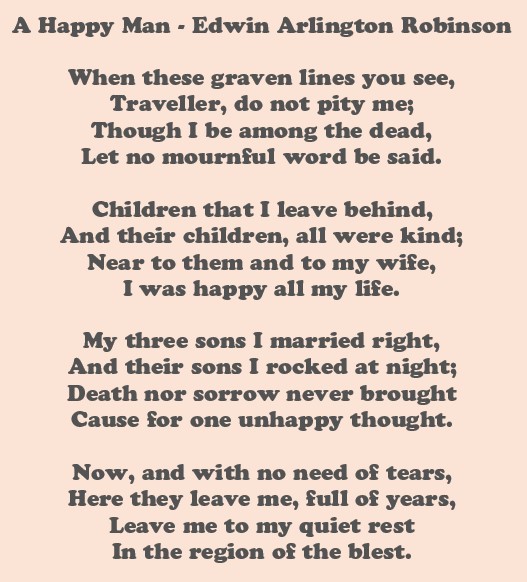 Recursos Educativos en Inglés - Poems in English - Poesías en inglés
Richard Cory - Edwin Arlington Robinson
Whenever Richard Cory went down town,
We people on the pavement looked at him:
He was a gentleman from sole to crown,
Clean favored, and imperially slim.
And he was always quietly arrayed,
And he was always human when he talked;
But still he fluttered pulses when he said,
"Good-morning," and he glittered when he walked.
And he was rich - yes, richer than a king -
And admirably schooled in every grace:
In fine, we thought that he was everything
To make us wish that we were in his place.
So on we worked, and waited for the light,
And went without the meat, and cursed the bread;
And Richard Cory, one calm summer night,
Went home and put a bullet through his head.
A Happy Man - Edwin Arlington Robinson
When these graven lines you see,
Traveller, do not pity me;
Though I be among the dead,
Let no mournful word be said.
Children that I leave behind,
And their children, all were kind;
Near to them and to my wife,
I was happy all my life.
My three sons I married right,
And their sons I rocked at night;
Death nor sorrow never brought
Cause for one unhappy thought.
Now, and with no need of tears,
Here they leave me, full of years,--
Leave me to my quiet rest
In the region of the blest.
🔆 Read more Poems