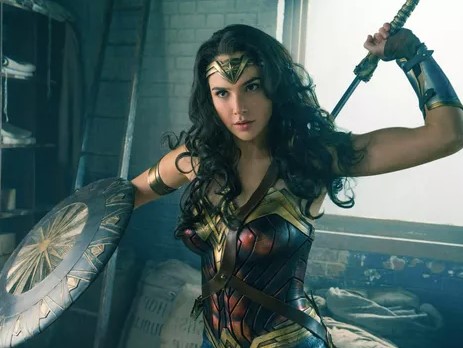 Wonder Woman, how the DC Comics superheroine became a feminist icon
Created in 1941 by William Moulton Marston, a convinced feminist, the superhero of pop culture is a model of emancipation. Incarnated by Gal Gadot in Wonder Woman 1984, she had to wait several decades to triumph over sexism in the film world and finally be brought to the screen. Quite a symbol!
Will Wonder Woman console us from the humiliation suffered by women filmmakers at the last Césars, following the awarding of a César for Best Direction to Roman Polanski, still under accusation of rape, to the detriment of the excellent women directors vying for this distinction? The much-anticipated sequel to the adventures of Diana Prince, Wonder Woman 1984, features the magnificent superheroine, worn by the Israeli actress Gal Gadot, and like the previous opus, it is written and directed by a woman, Patty Jenkins.
The first Wonder Woman is historic, because although there have been more films featuring women since the turn of the century, it is the first blockbuster centred on a superheroine. We forget that Wonder Woman was released in 2017, the year of the Weinstein affair and corresponded to a moment of empowerment for women, who finally (they believed) could be heard. Wonder Woman is the prototype of heroin in popular culture, the model for all others. Without her, there would have been no Buffy (... against vampires ), Sydney Bristow in Alias, Arya in Game of Thrones .
The female version of Superman
The character of Wonder Woman (or Diana Prince, her "human" surname) was the very first attempt to promote feminism through popular culture. She appeared for the first time in December 1941 in a comic strip by William Moulton Marston (1893-1947), a Harvard graduate in psychology, passionate about ancient philosophy of thought, and convinced that women (and men) should be able to claim all the qualities of the human being. But he needed the medium to bring his superhero to life: it was in the 1930s and 1940s that comic books took off, becoming popular culture par excellence. And it was then the Jewish creators who invented superheroes designed to fight against Nazism, such as Batman (1939) and Superman (1940). Marston imagines the female version of Superman. His ambition is to influence morals, break gender bias and educate girls and boys.
Wonder Woman is doubly subversive
Director Joss Whedon said exactly the same at the start of Buffy Against Vampires in 1997. Wonder Woman and Buffy are positive characters, destined to become role models for both sexes. In Buffy Against Vampires, his friend Alex always asks himself: "What would Buffy do in my place? It is indeed important that superheroes become icons for boys too - and not just sexy objects. Marston, Wonder Woman's father, felt that the best way to fight for equality was to show a woman who possesses both the so-called feminine and masculine qualities. Wonder Woman/Diana Prince is endowed with extraordinary power but also wants to stop the war. She possesses all those caring qualities that are generally attributed to women, but which are those of humanity. Wonder Woman is doubly subversive, as she opposes two stereotypes: that of the nice girl in distress and that of the strong, terrifying woman. And carries all this historical background, and the very history of feminism.
"Wonder Woman", the trailer
One may then wonder why it took so long to see such a comic book heroine, who is truly an integral part of contemporary mythology, brought to the big screen. But all attempts to make a film about this heroine have come up against the sexism of the film industry. It is still rare to see a superhero film centred on a woman.
Series, places of emancipation
Television series have been precursors in this field as in many others. Like comic books, series have been since the end of the last century places of experimentation and emancipation from male or heterosexual pressure. It is for example in Buffy Against Vampires and The L Word (a cult series which has just made its comeback) that we see the first lesbian relationships on the screen. The new Star Wars trilogy, with the appearance of Rey, the young heiress to Jedi power, or the cult of Princess Leia, has also changed things; and more recently, Captain Marvel with Brie Larson has put a woman in a dominant position in Marvel's rather sexist universe.
Céline Sciamma, author of the beautiful Portrait of the Girl on Fire, evokes the shock of the Wonder Woman in 2017 in the viewers' experience, the pure pleasure of the vision of this powerful and brawling woman: "Think of my pleasure, my sisters, the history of cinema and the representation of women. It gives us joy and also anger. Like, "Why don't I get that more often?" Now it's happening more and more, because there's a new writing for women."
Wonder Woman 1984, by Patty Jenkins, with Gal Gadot, Chris Pine, Kristen Wiig... Released on December 30th.