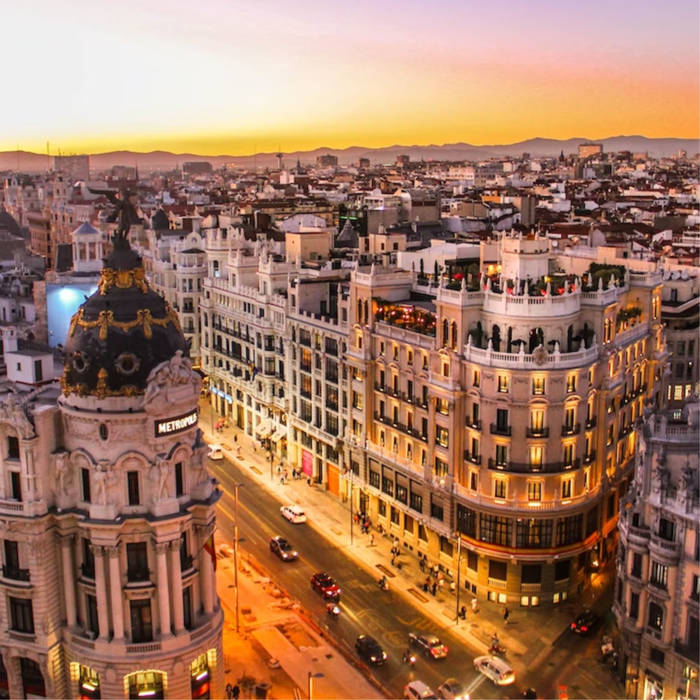 Cultural Tourism in Madrid in 12 Hours: Unveiling the Hidden Gems 🏰🌆🍽️
Are you ready to embark on a whirlwind tour through the enchanting city of Madrid, immersing yourself in its rich culture and fascinating history? In just 12 hours, you can discover the hidden gems that make this Spanish capital a must-visit destination. From iconic landmarks to delectable local flavors, get ready to dive into the magic of Madrid!
Start your adventure at the Royal Palace (Palacio Real), a majestic architectural masterpiece that once served as the official residence of the Spanish monarchy. As you wander through its opulent halls and beautifully landscaped gardens, you'll be transported back in time to an era of grandeur and royalty.
Just a short stroll from the Royal Palace, you'll find the bustling Plaza Mayor. This historic square has witnessed countless events throughout the centuries and is a vibrant hub of activity. Grab a coffee at one of the outdoor cafes, soak in the lively atmosphere, and people-watch to your heart's content.
To truly appreciate Madrid's artistic heritage, head to the world-renowned Prado Museum. Housing a staggering collection of European art, including masterpieces by Velázquez, Goya, and El Greco, this cultural haven will leave you awe-inspired. Don't miss the opportunity to witness the artistic genius that has shaped generations.
As your stomach begins to rumble, make your way to Mercado de San Miguel, a food lover's paradise. Indulge in a mouthwatering array of tapas, fresh seafood, and delectable pastries. Sample traditional Spanish flavors and savor the culinary delights that Madrid is famous for.
After refueling, venture into the trendy neighborhood of Malasaña, known for its bohemian vibe and eclectic mix of vintage shops, cafes, and street art. Lose yourself in its narrow streets and soak up the alternative atmosphere that attracts artists, musicians, and free spirits from around the world.
No visit to Madrid is complete without experiencing the energetic and passionate art of flamenco. Head to a traditional tablao, such as Cardamomo or Corral de la Morería, where you can witness the mesmerizing dance, soulful singing, and the heartfelt strumming of the flamenco guitar.
Continue your cultural immersion with a visit to the Reina Sofia Museum, home to Picasso's iconic masterpiece, Guernica. This modern art museum showcases an impressive collection of 20th-century works, allowing you to delve into the world of surrealism, cubism, and abstract art.
As the sun begins to set, take a leisurely stroll through the beautiful Retiro Park. Rent a rowboat and glide across the serene lake, marvel at the stunning Crystal Palace, and relax in the shade of the lush gardens. This oasis of tranquility in the heart of the city is the perfect place to unwind and reflect.
To satisfy your sweet tooth, make a pitstop at Chocolatería San Ginés, a legendary institution that has been serving up mouthwatering churros and rich hot chocolate since 1894. Indulge in this delectable treat and savor the flavors that have delighted locals and visitors for over a century.
For a taste of Madrid's vibrant nightlife, head to the neighborhood of La Latina. This lively area is renowned for its tapas bars, where you can mingle with the locals, savor delicious bites, and enjoy a glass of sangria or a refreshing caña (beer). Immerse yourself in the infectious energy and vibrant atmosphere that comes alive after dark.
As the night unfolds, venture to Gran Vía, Madrid's bustling main avenue, known for its dazzling lights, iconic theaters, and vibrant nightlife. Catch a show at one of the historic theaters or simply stroll along the lively street, taking in the vibrant atmosphere that characterizes the city's nocturnal charm.
End your 12-hour cultural adventure at Puerta del Sol, the symbolic heart of Madrid. Marvel at the iconic Tio Pepe sign and the grandeur of the city's central square. If you're lucky, you might even witness the famous clock chiming in the New Year and the lively celebrations that ensue.
In just 12 hours, Madrid will leave an indelible mark on your heart. Its rich history, artistic treasures, culinary delights, and vibrant atmosphere will make you yearn for more. So, embrace the spirit of adventure and dive into the cultural wonders that await you in this captivating city. Madrid is calling, and it's time to answer the call. ¡Viva Madrid! ✨